Healthy Braun excited for Brewers spring training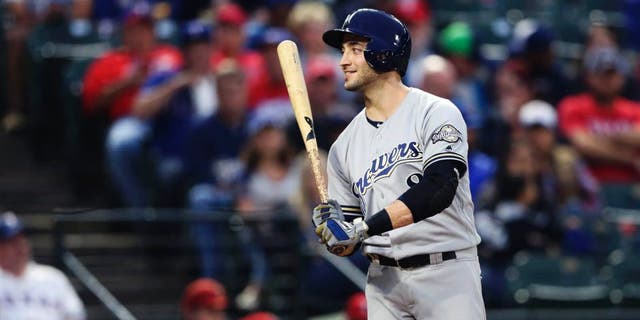 MILWAUKEE -- The biggest problem that Ryan Braun has had this winter has been a lack of sleep.
Life has changed for the Milwaukee Brewers slugger after his wife, Larisa, gave birth to the couple's second child in September.
Otherwise, Braun said he feels as fit as he has been in years after not having to worry about back surgery or treatment for a thumb injury in the offseason. He is anxious to get to spring training next month.
"That second kid is a game-changer. We're going on four or five hours of sleep most nights, but two hours at a time tops so that aspect of it has been fun but challenging," Braun said Sunday at the "Brewers On Deck" winter fan event. "But other than that it's been the healthiest offseason I've had in a long time -- knock on wood."
Braun is by far the most recognizable player left on a club in the midst of a rebuilding project. At age 33, he heads into spring training as the elder statesman, coming off a productive season in which he hit .305 with 30 homers and 91 RBI.
Two offseasons ago, Braun had a procedure to fix a nerve issue near his right thumb. A year later, he had back surgery.
This time, about the biggest baseball-related issue for Braun has been the speculation about whether the Brewers might finally trade him. Braun is in the second year of a five-year extension that will pay him $20 million this season.
"I've dealt with (trade rumors) for a little while now so it's really not a big deal to me," Braun said. "Obviously, I love Milwaukee, my family loves Milwaukee. If we didn't, we would already be out of here. So it's pretty easy for me to stay focused on the things I can control."
The rebuild around him seems to be moving along on schedule.
Milwaukee won 73 games last year, a five-game improvement from 2015. The first potential piece of the team's future core arrived in the majors in August in shortstop prospect Orlando Arcia.
Craig Counsell, going into his second full season as manager, has a roster with more versatility, including the newly acquired Travis Shaw from the Boston Red Sox. Milwaukee traded closer Tyler Thornburg to Boston to add Shaw's left-handed bat in what had been a primarily right-handed lineup.
Another lefty, Eric Thames, returned from a successful three-year stint of playing ball in South Korea and signed a three-year, $16 million deal as a free agent to play first base. Major league stolen-base leader Jonathan Villar (62) and Hernan Perez have speed and versatility.
Another wave of top prospects, including those acquired in trade-deadline deals the last couple seasons for former stars like Jonathan Lucroy and Carlos Gomez, are starting to reach the upper levels of the minors.
"What I'm excited about in spring training that we didn't have last year is we have more competition. There's been more competition created at a lot of positions," Counsell said. "And that really serves everybody as you have to bring your best . . . So that's a real positive change, and something we've moved forward, I think, going a year later into this."
Among the newcomers, Thames has the potential to have the most impact in the lineup. The optimistic Thames could also be a more well-rounded first baseman than power hitter Chris Carter, whom the team chose not to re-sign after one season at Miller Park.
Thames should be a middle-of-the-order presence helping to protect Braun. Thames hit .317 for 40 homers and 118 RBI last season in the Korean Baseball Organization.
"I'm very thankful to them for putting themselves out there on the line like that," Thames said. "I'm taking this very seriously. It's not like, 'OK, I got paid. Now I'm just going to hang out.' I want to win."