'He can't cook': NFL draft prospect dinged over culinary skills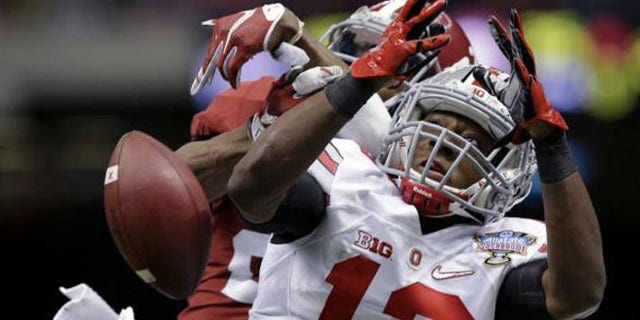 College football's departing stars have been poked, prodded and pestered by NFL teams in the lead-up to tonight's annual draft, but an unnamed scout found a new red flag with one potential first-round pick: He can't cook.
Having already excelled at the 40-yard dash, the 225-pound bench press, a grueling interview and a host of other tests that followed his illustrious career at Ohio State, cornerback Eli Apple learned his lack of culinary know-how could hurt his chances of being a top choice.
"I worry about him because of off-the-field issues," an anonymous scout told the Milwaukee Journal-Sentinel. "The kid has no life skills. At all. Can't cook. Just a baby. He's not first round for me. He scares me to death."
The anecdote took to new heights the absurdity of the draft process. Players are given intelligence tests, asked deeply personal questions and told the length of their hands could doom them to football failure. To be fair, owners preparing to invest millions of dollars and coaches and general managers whose own careers are gauged by wins and losses have a right to some answers.
But Apple, whose mom tweeted is the son of a retired chef, swears he can cook. And he can do more to help a team on the gridiron than at the dining room table.
"I can cook on the field," the New Jersey-raised Buckeye told the Detroit Free Press.
Apple, 20, played two seasons at Ohio State. He was named the defensive MVP of the 2016 Fiesta Bowl after leading his team to a 44–28 win over Notre Dame.
Rumor, innuendo and plain bad luck can have a real effect on a player's draft status, which in turn affects how much they earn in their first NFL contract. Last year, a pregnant ex-girlfriend of former Louisiana State University lineman La'el Collins, projected as a top-10 pick, was murdered in the days before the draft. Even though police never called him a suspect, the fact that they interviewed him was enough to discourage all 32 teams from taking a chance on him.
Although the murders of Brittney Mills and her unborn baby remain unsolved, Collins was cleared – after the draft. He signed a free-agent contract with the Dallas Cowboys for a fraction of what he would have earned, and was a solid contributor as a rookie.