Hawks will have Brouwer, not Bolland, for Game 1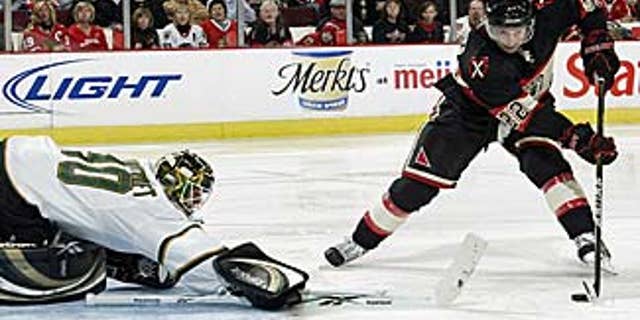 VANCOUVER -- The Blackhawks got some good news in the hours prior to their playoff opener against the Canucks, as Troy Brouwer said his shoulder feels good enough to play and coach Joel Quenneville confirmed that the rugged forward will be in the lineup Wednesday night at Rogers Arena.
Quenneville wouldn't confirm who will be coming out of the Blackhawks' lineup when they face off against the Canucks in Game 1 of the Western Conference Quarterfinals (10 p.m. ET, CBC, VERSUS, RDS).
"It's something you just have to deal through the pain a little bit and go from there," said Brouwer, who missed the final three games of the regular season after injuring his shoulder at Montreal on April 5. "If you can handle it then you can go. I've been able to have a pretty quick recovery and I feel good. I wouldn't put myself in a situation where I could get hurt."
The news wasn't as good on Dave Bolland, who remains out with a concussion.
"Bollie keeps getting better and closer every day," Quenneville said. "We said we expect him at some point in this series and he continues to progress, but he's not playing (Wednesday)."
Not having Bolland is a significant blow to the Blackhawks. Bolland was essential in limiting the Sedin twins in the playoffs the last two postseasons. Sure he got help from his linemates and especially from the defense pair of Brent Seabrook and Duncan Keith, but Bolland got a lot of the credit for being a pest that the Sedins just couldn't swat away.
The Sedins combined for only 3 goals and 7 assists in the six-game series last season against the Hawks. Bolland turned solid defense into good offense with 2 goals and 3 assists.
"He's a good player and he did a great job for them last year," Canucks captain Henrik Sedin told NHL.com.
Henrik said not having to play against Bolland, at least for Game 1, won't change the way he or his brother, Daniel, plays.
Daniel Sedin led the NHL with 104 points this season and Henrik was fourth with 94.
"We're going to play our game and we'll go from there," Henrik said.
It might change a lot for the Blackhawks, who will likely try to get their top scoring line of Jonathan Toews with Patrick Sharp and Marian Hossa on the ice against the Sedins and Alexandre Burrows as much as possible.
Then again, if it is Toews' line matching against the Sedins and Burrows, then the Blackhawks will essentially be asking their top scoring line to be a shutdown line.
"Anybody on the ice against them really has to think defense first," Patrick Kane told NHL.com, "but sometimes the best way to play against them is to really control the puck and make them play in their own end."
That's the old "your best defense is a good offense" theory, but the Blackhawks might find it difficult to get the matchups they want in Games 1 and 2 because they don't have the luxury of last change at Rogers Arena. If Canucks coach Alain Vigneault wants to get away from the Sedins vs. Toews matchup, he will likely be able to.
"If it's (Toews') line against our line it's going to work both ways, we'll have to focus on the defense, too," Henrik said. "It'd be a big challenge for us, but we'll see what happens."
Quenneville will do his best to at least get Keith and Seabrook on the ice as much as possible against the Sedins and Burrows, but Canucks defenseman Kevin Bieksa said that could work in Vancouver's favor later in the series because their defensive depth is superior to that of the Blackhawks.
"Over the course of a seven-game series, if we make those guys play hard minutes -- they're going to be logging upper 20s -- we're looking to take advantage of that," Bieksa said. "We have eight defensemen that can play on the top four on any team, and I'm sure we'll try to spread the minutes out and keep all of us fresh to hopefully use that toward the end of the series."
The Canucks' forward depth is also strong, especially with 41-goal scorer Ryan Kesler on the second line, that even if the Sedins are held in check they are far more confident this season that other lines will be able to step up.
"The thing about the Vancouver Canucks is if you shut down the Sedins you've got a whole bunch of other problems to worry about it," Sharp said. "We're not quite sure what the matchups are going to be or if we're going to get any being on the road."
Follow Dan Rosen on Twitter at: @drosennhl