Hawks scrambling at Deadline with 'D' injuries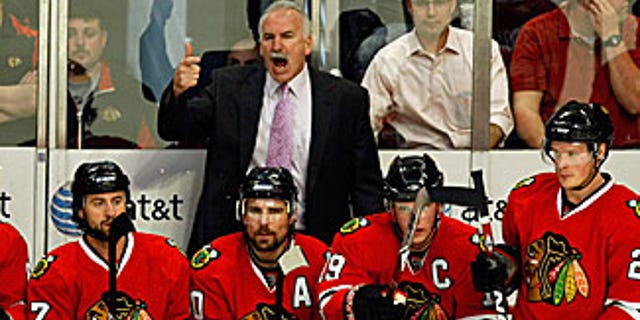 CHICAGO -- Already in the market for depth at center and on the blue line, the Chicago Blackhawks likely saw their need for another defenseman rise Sunday night.
Defenseman Jordan Hendry was hurt less than three minutes into the third period of Chicago's 4-3 shootout win against the Phoenix Coyotes at the United Center, while fellow defenseman Duncan Keith finished the game despite appearing to injure his shin/ankle late in the third.
Hawks defenseman Niklas Hjalmarsson also is ailing with an undisclosed upper-body injury that nearly kept him out of Sunday's game. Meanwhile, Nick Boynton was claimed off waivers by the Philadelphia Flyers this past weekend.
Assuming Hendry will miss Monday's game against the Minnesota Wild (8 p.m. ET, VERSUS, TSN2, RIS), the Blackhawks will have five defensemen on the roster physically capable of playing -- assuming Hjalmarsson and Keith can play. The only other player currently on the roster with defense experience, who could replace Hendry, is 6-foot-8, 258-pound John Scott -- who was a healthy scratch Sunday for the fourth game in a row.
Scott has only played five games since Dec. 30 and now is listed as a forward.
As a result, the pressure may have been increased on Stan Bowman, the team's vice president and GM, to add another defender during Monday's NHL Trade Deadline frenzy.
"Still optimistic," Bowman said before Sunday's game when asked about completing a trade. "I think at this point there was a flurry over the last week or so, and now you're seeing things slow down. There's a lot of talking still, but it's probably one of those things where a domino has to fall, and then I think that will spur a lot of other things going on."
Hendry was injured while being checked by Shane Doan 2:47 into the third. After Doan slammed him into the end boards, Hendry crumpled behind the Hawks' goal. He needed assistance to leave the ice, couldn't put weight on his leg and headed directly to the locker room.
Chicago coach Joel Quenneville said it's a lower-body injury, the extent of which will not be known until Hendry is re-examined Monday.
One bright note was the play of 19-year old rookie defenseman Nick Leddy against the Coyotes.
Leddy, who has been playing alongside Keith lately, finished with no points and a plus-1 rating in 23:11, but it's what he did that doesn't show up in the box score that opened Quenneville's eyes.
"I thought Nick Leddy had a special game tonight," Quenneville said. "I thought he did a great job defending. He was quick with the puck and made several elusive moves, where all of a sudden (we had) direct passes out of our zone, and they were tape-to-tape. I liked his poise and composure."
Quenneville also would like to see Hjalmarsson and Keith back in action Monday, which likely will happen despite each having ailments. Keith met with reporters following Sunday's game wearing an ice bag on his ankle, but declined to comment specifically about the injury.
Hjalmarsson, meanwhile, had an odd night.
First, Quenneville said before the game that he was playing against the Coyotes. Then it was announced in the press box during Chicago's warm-up skate that Hjalmarsson would not play. Then Hjalmarsson was spotted on the bench after the Hawks returned to the ice to start the game -- and he wound up logging 14:06 of ice time, including 2:48 on the penalty kill.
If the Hawks want to add to the mix on the blue line, it will be up to Bowman, it seems, to find the right piece. Sunday, the GM said he's initiating most calls because he wants to swap prospects and/or draft picks instead of players from the current roster.
"There's a lot of waiting at this point," Bowman said. "We're talking to a lot of people. I'm losing my voice here. I've been on the phone all day. That's part of it. You can't predict it. Like I said (on Saturday), if we end up with the group we have in the locker room now, I'm happy with that. But we're aggressively trying to improve the team."