Hawks need to create more traffic in Game 2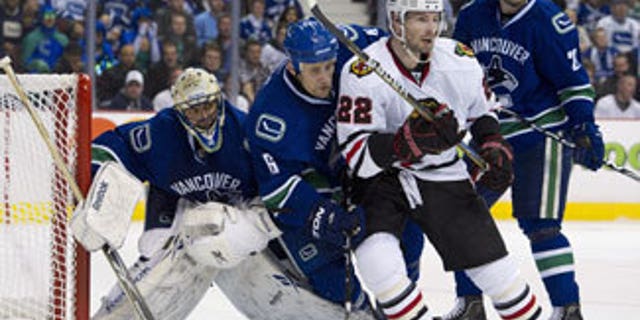 VANCOUVER, B.C. -- When Roberto Luongo can respond to a question about seeing the puck with an almost defiant, "who do you think you're talking to" type of answer, it's safe to assume that the Canucks' goalie is feeling as confident as ever.
"I've been seeing the puck well for four months, bud," Luongo said with a swagger inside Vancouver's dressing room after he stopped 32 shots in a 2-0 Game 1 victory on Wednesday.
The Blackhawks know they can't let that continue in Game 2 Friday (10 p.m. ET, Versus, CBC, RDS).
How they go about shielding Luongo's vision is simple and falls in line to the old formula for playoff success: Get pucks to the net, get traffic in front, cause confusion, frustrate the goalie.
Getting it done is a whole different challenge for this year's version of the Blackhawks, who don't have 265-pound behemoth Dustin Byfuglien standing in Luongo's way, bothering the goalie enough to throw him off his game and essentially bring down the Canucks.
"We need at least somebody in front of him," Blackhawks coach Joel Quenneville said Thursday. "We need second opportunities."
Without Byfuglien --dealt to Atlanta last summer after helping the Hawks beat Vancouver on the way to the Cup -- the task of getting in Luongo's face falls to a committee of big bodies, including Marian Hossa, Troy Brouwer, Bryan Bickell and Viktor Stalberg.
Hossa and Brouwer tried late to get there late in Wednesday's game, but it was a case of being too little and too late.
The Blackhawks have to establish their netfront presence early Friday, and that falls on everyone, defensemen included.
"I think that goes along with establishing a forecheck and playing the puck possession, aggressive style that we like," defenseman Chris Campoli said.
Campoli also said Chicago's defensemen need to get up in the rush, get shots through from the points and, of course, hit the net with them in order to help create chaos in front of Luongo.
The Canucks blocked only 11 shots Wednesday but the Hawks misfired on 19, and that includes the four posts they hit.
The Blackhawks were guilty of being too fancy at times.
"I think we could have put more pucks at the net and a couple of times we were probably looking for a better play," Quenneville said. "We have a tendency to do that. There is enough offense in here and sometimes when you're trying to make a better play it leads to missed opportunities."
By firing more shots at Luongo -- Chicago had 32, but only seven in the first period, when Vancouver had both of its goals -- the thought is that more players will then funnel to the net looking for the so-called ugly goals.
"You just gotta go and do it," defenseman Brent Seabrook said. "You're going to take some abuse, but that's where the ugly goals are scored and the series are won, in front of the net. (Alex) Ovechkin banged that one in (Wednesday) night after taking three or four whacks at it in front of the net. That's where the goals are scored."
Even if he was here, Byfuglien might have found it difficult to get in Luongo's way. The goalie changed his style this season to stay deeper in the crease, making him a tougher target to bump and a more obvious penalty when you do. He stays on his skates and gives his defensemen more space to help clear out the middle when guys do crash.
"When he stays deeper I think we have to shoot the puck more than pass it because he's going to be there on the sides," Hawks forward Michael Frolik said. "We have to go for the second opportunities, nothing fancy."
Quenneville said there is still some room there for the Hawks to make a difference. They might have to Friday to avoid going into a 0-2 hole.
"We don't want to take unnecessary penalties, but we want to be in the paint in that area," Quenneville said. "We were too high and made it too easy on him."
Follow Dan Rosen on Twitter at: @drosennhl