Hawks' Mike Scott faces up to 25 years in prison on drug charges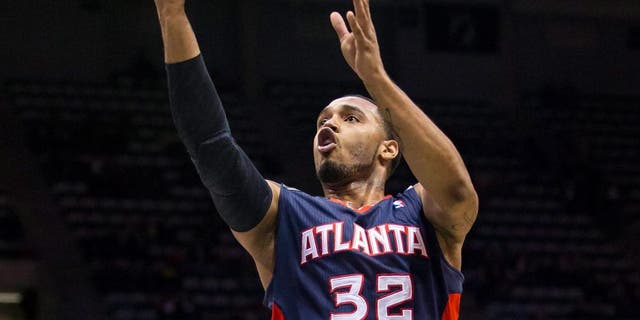 Atlanta Hawks forward Mike Scott faces up to 25 years in prison following two felony drug charges from his arrest on July 30, according to The Atlanta Journal-Constitution.
Scott, along with his younger brother, was arrested after police found 35.2 grams of marijuana 10.9 grams of MDMA (also known as ecstasy/molly) following a traffic stop in Homer, Georgia. According to Georgia state law, Scott faces up to 10 years in prison for the marijuana charge, and 15 years in prison for the MDMA charge.
Scott told police that all of the drugs in the vehicle belonged to him and not his brother. He was released on a bond of $8,100.
According to The Atlanta Journal-Constitution, Scott's court date might not occur until after the 2015-16 NBA season starts:
"An initial court date in the case could take several months to be placed on the calendar as the drugs have been sent to an independent lab for processing, according to the Banks County assistant district attorney. That would mean an initial court appearance would come during the upcoming NBA season.
"Banks County waits for lab tests on drugs to be returned before setting a court date, Assistant District Attorney Sam Skelton told The Atlanta Journal-Constitution. The process can take up to several months."
The Hawks issued a short statement following Scott's arrest saying they were aware of the arrest and would respect the legal process. Though the Hawks and the NBA have yet to discipline Scott, it is not out of the question. The league does not have to wait until the legal process is over to hand out its own disciplinary measures.
Scott has two years left on his deal with the Hawks, but his $3.3 million contract in 2016-17 is non-guaranteed.
(H/t The Atlanta Journal-Constitution.)