Hawks' loss opens door for Dallas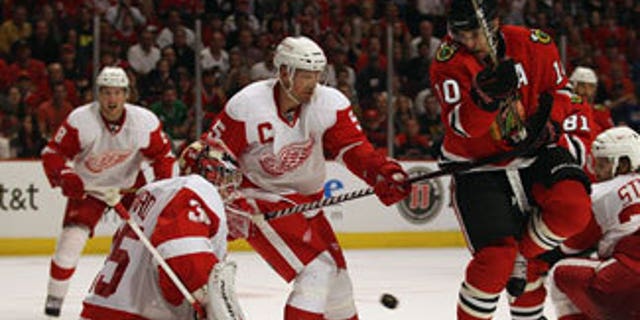 CHICAGO -- Their fate isn't sealed just yet and it's still a tad early for the defending Stanley Cup champion Chicago Blackhawks to start making tee times.
However, after Sunday's 4-3 loss to the Detroit Red Wings at the United Center, the Hawks now need the Minnesota Wild to go wild tonight against the Dallas Stars (6 p.m. NHLN) if they're going to get a chance to defend their crown.
If Dallas beats the Wild in regulation or overtime, the Stars are going to the postseason and the Hawks are going home for a long summer. Only a Dallas loss or shootout win would spring Chicago into the Western Conference playoff field.
Also thanks to the Hawks' loss on Sunday, it means there is only the eighth seed in the West left to be determined. Had Chicago gotten two points, the Hawks would've been locked into the fifth seed and faced the fourth-seeded Anaheim Ducks in the first round.
Had the Hawks gotten even one point, they would've been locked into the seventh seed and faced the second-seeded San Jose Sharks -- and former goalie Antti Niemi, who started every game in Chicago's postseason run to the Cup a year ago.
Instead, the top-seeded Vancouver Canucks are the only team in the West that doesn't yet know its first-round opponent, which will be either Dallas or Chicago. The other six West teams that have locked up playoff spots now know exactly who they'll face.
The Sharks will face the seventh-seeded Los Angeles Kings. The third-seeded Red Wings will play the sixth-seeded Phoenix Coyotes in a rematch of last season's first-round series between the two, which Detroit won in seven games. That leaves the fourth-seeded Anaheim Ducks playing the fifth-seeded Nashville Predators.