Hawks hoping Scott's size gives them an edge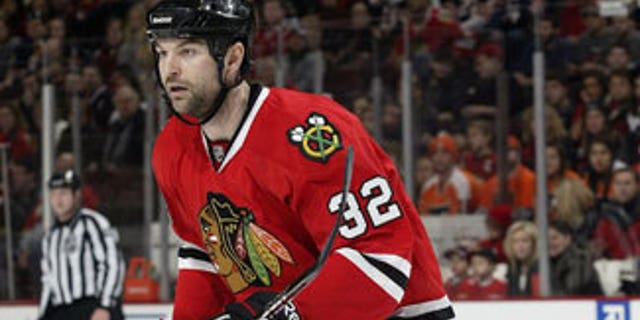 CHICAGO -- The Blackhawks admit their desperation level is high heading into Game 3 Sunday night knowing another loss would put them in a 0-3 hole. It appears coach Joel Quenneville will make a move that speaks to just that.
John Scott, Chicago's 6-foot-8, 260-pound towering and brawling defenseman, will likely play against the Canucks as a forward. Scott hasn't played since March 20 against Phoenix, and even then he played five shifts totaling just over four minutes. He didn't score a goal in 40 games this season and has just 1 goal and 3 assists in 111 career games.
"If I can pot one that'd be nice," Scott said smiling.
Quenneville couched it by saying Scott will probably play, but he also confirmed that Tomas Kopecky, Bryan Bickell and Dave Bolland are out. Scott emphatically said he is playing as a forward, and he is pumped because it will be his first career playoff game.
"Q (Quenneville) kind of hinted toward it (Saturday) and I was jacked up, like, 'Yeah, let's do this,' " Scott said. "I was thinking about it all night. I couldn't sleep, so I'm excited."
Asked what Scott brings to the lineup, Quenneville used just one word:
"Size."
And Scott plans to use it, especially in front of Canucks goalie Roberto Luongo.
"I've got to take his eyes," Scott said. "He's playing great so anything I can do to take him off his game, get in his face -- I'll be there in front."
Scott, of course, is also being inserted into the lineup for his physicality. He wouldn't mind it if a Canuck agreed in a fight.
"We go back to my Minnesota days, and I beat up a couple of their guys," said Scott, who played 71 games with the Wild over two seasons. "I think that's in the back of their heads, hopefully. If I can get someone to go I'll be happy to oblige."
The Canucks are not scared.
"When a guy 6-8 challenges you, (a guy) that can't skate? Well, usually you say 'No,' and then you go around him and score," Canucks defenseman Kevin Bieksa said. "That's what usually you do. There are other 6-8 guys in the League. Why doesn't he go challenge those guys to fight?"
Scott's main task Sunday will be to hit the Canucks, be in front of the net or anywhere else on the ice.
Vancouver has outhit Chicago, 92-61, through two games.
"I'm almost 6-9 and 270 pounds, so I have to go throw the weight around," Scott said. "I'll be hitting as much as I can. I'm not going to go out there and be crazy obviously, but play smart, play my game and throw my body around."
Scott joked that he's been hitting concussed center Dave Bolland lightly in practice to try to get him ready, "so it'll be nice to hit someone at full speed."
Whether Scott becomes a factor could be a key for the Blackhawks, but for them to avoid going into a 0-3 hole they know their best players have to step up.
Patrick Kane has an assist against the Canucks, but Patrick Sharp, Jonathan Toews and Marian Hossa have been shut out.
"We want to do well. We want to get that production," Kane said. "We don't want the media or the team to say our best players weren't our best players in the playoffs and that's why we lost. We like that pressure and maybe it's good that it's coming on us now so we can start performing."
It might start on the power play, where the Hawks have been brutal in this series. They are 0-for-5 with only three shots on goal. They were 0-for-2 with no shots on goal in Game 2.
They say some of the keys to power play success are better breakouts and better movement in the zone in order to throw the Canucks' penalty killers off kilter. But, the most important ingredient is hard work, and the Blackhawks' power players admit they may have been lacking in that department over the first two games.
"Sometimes you've got to change angles up. Sometimes you've got to change the way you operate, different looks, but probably the biggest thing is you've got to work harder," Hawks defenseman Brian Campbell said. "You've got to work as hard as the penalty killers or even harder."
Follow Dan Rosen on Twitter at: @drosennhl