Having a Super Bowl party? Here are three menu options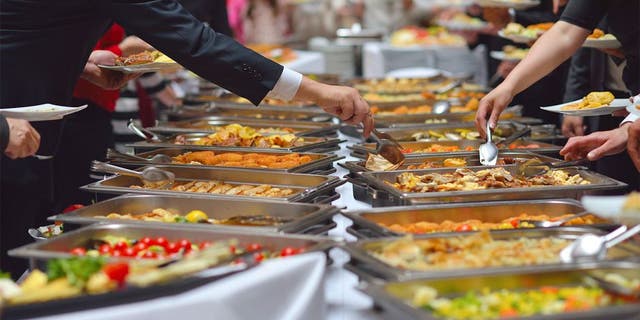 NEWYou can now listen to Fox News articles!
Throwing a party for Super Bowl 50? Still don't know what food you will serve?
Don't worry, we're here to help.
First, a harsh truth: You're going to foot the bill for this because that's how grownups throw a party. Super Bowl potlucks are the worst. Nobody can agree on what to make and there's always some cheapskate who thinks bringing over an $8 container of ice cream will cover his donation.
So, what do you serve? To answer this, I'm turning this over to Paul Werner, who is the vice president of food services and restaurant administration for FOX. And as anyone who's been to the FOX holiday party can attest, the man knows his stuff.
Anyway, Mr. Werner was kind enough to send over menu options for three different budgets. Each one will serve 10 people. If you're having more guests, just up the dosage.
$50.00 Budget
Hot Dogs
Condiments to Include:
Buns, Ketchup, Assorted Mustards, Relish, Diced Onions, Sauerkraut
***
Build Your Own Nacho Bar
Assorted Tortilla Chips, Salsa, Guacamole, Sour Cream, Diced Tomatoes,
Sliced Jalapenos, Refried Beans, Sliced Black Olives,
Ground Beef Chili, Warm Queso
***
Football Shaped Cookies
$100.00 Budget
Chili Mac & Cheese Bar
Traditional Mac & Cheese
White Bean Chicken Chili
& Pork Chili Verde
***
Roasted Buffalo Chicken Wings
Celery & Carrot Sticks
Blue Cheese Dip
***
Chips & Salsa
***
Meatball Marinara Subs, Provolone Cheese
***
Ice Cream Sandwiches
$250.00 Budget
Crab Cakes,
Creole Remoulade
***
Mixed Green Salad, Cucumbers, Tomatoes, Carrots
Assorted Dressings to Include:
Balsamic, Thousand Island, Ranch
***
Biscuits
Chipotle Butter
***
From the Grill:
BBQ Chicken
Pork Ribs
Tri Tip
***
Potato Salad
Mac & Cheese
***
Make Your Own Sundae Bar
Vanilla, Chocolate, Coffee Ice Cream
Toppings to Include:
Hot Fudge, Caramel Sauce, Banana Wheels,
Chopped Nuts, Fresh Whipped Cream, Broken Oreos, Chocolate Sprinkles,
Rainbow Jimmies, Maraschino Cherries
***
Assorted Brownies, Blondies & Cookies
Doesn't that sound amazing? You might notice that recipes aren't included. Come on, must we do everything for you? All of these are available somewhere on the Internet.