Hassan Whiteside, Goran Dragic finish preseason strong in Heat's loss to 76ers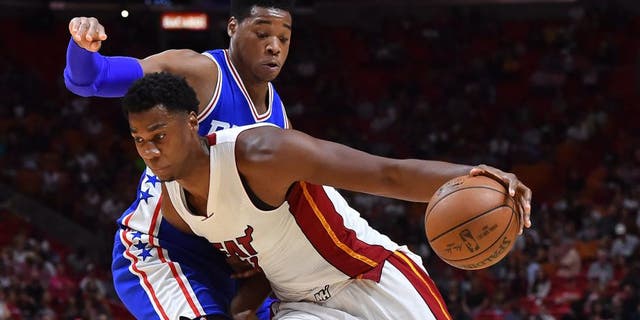 NEWYou can now listen to Fox News articles!
76ERS 113, HEAT 110
MIAMI -- Dario Saric scored 19 points, and Joel Embiid capped off a strong preseason with 18 points in 18 minutes for Philadelphia.
Jerami Grant scored 17 for the 76ers, who trailed by as many as 10 points.
Goran Dragic scored 17 points and handed out seven assists for Miami. Hassan Whiteside scored 15 points and grabbed eight rebounds, and Dragic and Whiteside both shot 5 for 6 from the field.
76ERS: Philadelphia got 13 points from Sergio Rodriguez. ... The 76ers turned 19 Miami turnovers into 26 points. ... Robert Covington left the game with a sprained right ankle.
HEAT: Willie Reed scored 13 points. ... Miami had a chance to tie, but Luis Montero's 3-point attempt with 2 seconds left bounced off the rim. ... The Heat were only 31 of 49 from the free throw line.
UP NEXT: Philadelphia (2-5) hosts Oklahoma City in its season opener on Wednesday. Miami (4-4) visits Orlando to open its season on Wednesday.