Has the time come to consider moving NASCAR's All-Star Race?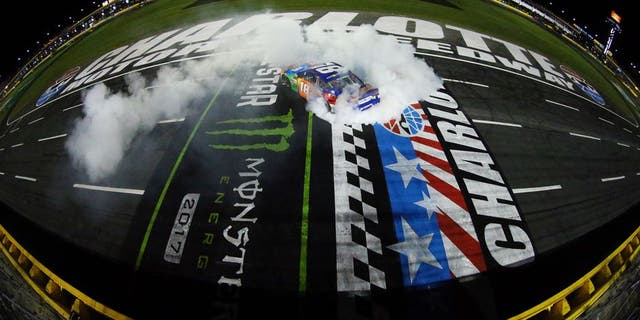 CONCORD, N.C. -- After a Monster Energy All-Star Race that lacked on-track action, to put it gently, the time has come to give serious consideration to a question NASCAR has previously brushed aside.
Is it time to move the All-Star Race to a different racetrack, one that differs not only in zip code from Charlotte Motor Speedway but, more importantly, one that differs in track size and style and which fans might have the best opportunity to attend?
Kyle Larson, who finished second in his No. 42 Chip Ganassi Racing Chevrolet to race winner Kyle Busch in Saturday night's yawnfest, certainly seems to think so.
"I think you look at other sports, their All -- Star games switch venues all the time. It's the same game, so it didn't really make a difference other than the venue," he said. "For us, I think it would be really cool to change the venue.
"I don't know if racetracks could bid on the All -- Star Race or bid on the final race of the season. But I think that would be really cool."
Look, the folks at Charlotte Motor Speedway are doing everything they can to sell the All-Star Race and keep it fresh. NASCAR tricks up the rules to make it interesting and attempt to keep the racing competitive -- hence, the experiment involving "prime" and "option" tires during Saturday night's event.
But the racing at 1.5-mile tracks in general, and at Charlotte in particular, just does not seem to be conducive to putting on a great show in a short event -- especially at night.
Dale Earnhardt Jr. had said prior to the All-Star Race that the different tires likely would make no difference when it came down to it after dark, and he was right.
The real strategy came as teams had to decide when to use the green option tires that came with slightly more grip (but went away faster) than the yellow primes. The 10 cars that survived to battle it out for $1 million over the final 10 laps all got them out of way so that they were all on the prime tires for the shootout.
No, it wasn't the tires that decided who won the race -- although the fact that the control car on the final restart, the No. 2 Team Penske Ford of Brad Keselowski, could not get out of the way fast enough on an older set.
The deciding factor was clean air. Whichever driver had it set sail and couldn't be touched all night.
Larson won the first two stages by leading all 20 laps in each; Jimmie Johnson won the third stage by leading 18 of 20; and Busch, once he got out front with a dramatic pass of both Keselowski and Johnson on the final restart, leading all 10 in the final segment.
Add up the lack of green-flag passing in general and especially for the lead, and the All-Star Race seemed incredibly stale.
Perhaps it truly is time to consider shaking it up with a change in venue.
What about putting it on at a short track like Bristol, Richmond or even Martinsville, which now has lights? Or making it an extra night of racing on a superspeedway, maybe at Daytona in July? Larson even suggested maybe trying it once in a while on a road course like Sonoma.
Johnson, who finished third on Saturday night, admitted he isn't so sure about all of this. But he did concede that it at least deserves to be discussed.
"There's no doubt that mile -- and -- a -- half racing puts on a certain type of show," Johnson said. "There's some that argue to line us up at Bristol for an All -- Star Race and we'll have the wildest night of racing you've ever had in your life, or Richmond, something like that.
"I've had so much success here. I love being at home. I'm really torn on where to go with it. I think Charlotte Motor Speedway works as hard as they possibly can put on a great show. They're open -- minded to any and every idea."
Still, Johnson did get a twinkle in his eye when he thought of maybe having it moved to a track where he's arguably had even greater success than Charlotte, where he's won four non-points All-Star events and another eight points races.
"Mile -- and -- a -- half's do put on a certain style of racing. So I don't mind whichever direction it goes. I think I'd be sad to see it go because I've won so many All -- Star Races here, and I would naturally want to pick one of my best tracks to have it go to. I think the All -- Star Race should move to Dover (where he's won a record 10 points races). It would be a great night," the smiling Johnson said.
Larson said he'd love to see it moved around, giving more fans in different areas of the country a chance to catch it.
"It would open up different fan bases to come see a big event," Larson said. "You're not going to get many people from the West Coast to fly out here for the All -- Star Race, I don't think. It would be cool to have an All -- Star Race in Fontana or Vegas or Sonoma. Road courses, anywhere. It would be cool to switch it up every year.
"I think you get more fans kind of come to it. I think it would kind of make the race more exciting again."
Bottom line: it's a thought that deserves to at least a full-throated discussion and debate by the powers-that-be in NASCAR.
John K Harrelson | John K Harrelson LAT Images www.latphoto.co.uk