Harvick's New Role With Expanded NCWTS Team Goes Beyond Driver's Seat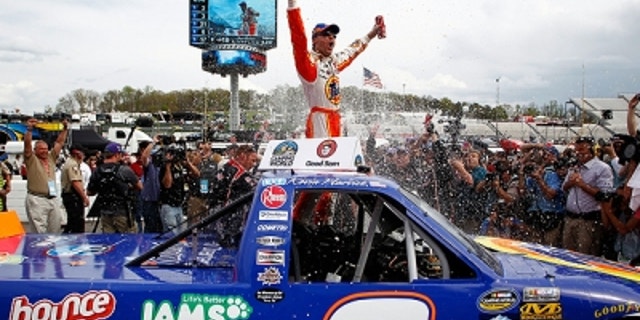 REWIND: HARVICK'S NEW ROLE WITH EXPANDED NASCAR CAMPING WORLD TRUCK SERIES TEAM GOES BEYOND DRIVER'S SEAT
FORMER OWNER ASSUMES UNOFFICIAL "OVERSIGHT" DUTIES IN SEASON THAT OPENS FRIDAY AT 7 P.M. ET LIVE ON SPEED™
Harvick: "It will allow me to be at home and have stuff in the shop and look at it, walk in at night like I used to and look around and make sure everything is going the way I think it should go, and then tell Bob (Newberry) …"
That didn't take long …
Kevin Harvick, as it turns out, must miss owning a NASCAR Camping World Truck Series team after all.
After 10 years of ownership, Harvick and wife DeLana disbanded Kevin Harvick, Inc. at the conclusion of the 2011 season, saying then the time had come to step away. Harvick, however, inches his toes back into that pool in 2013 with NTS Motorsports, a new joint venture between NTS Motorsports owner Bob Newberry and Joe Denette Motorsports that now occupies the former KHI race shop in Kernersville, N.C.
The team will field three fulltime Truck Series entries this season (season opener live from Daytona on SPEED Friday at 7:30 p.m. ET; NCWTS Setup with Krista Voda at 7 p.m. ET) with four-time champion and former KHI driver Ron Hornaday continuing behind the wheel of the No. 9 Smokey Mountain Herbal Snuff Chevrolet, owned by Denette, and Brennan Newberry in the No. 14, while a full driver lineup for the No. 24 entry is undetermined. Harvick, however, will pilot that truck in Martinsville Speedway's two races this season.
But Harvick plans to be in the NTS Motorsports race shop more often than a typical two-race driver would be. Think of him, perhaps, as Bob Newberry in absentia.
"Kevin has offered a lot of information to us, whether on the telephone in the evening or whatever the case," Newberry said. "Kevin's going to maintain his personal office at the race shop, so he'll be there day-in and day-out and he'll see what's going on. He's been around racing enough, and he's the king when it comes to trucks, in my opinion. And for him just to go down there and take a look, peek around, in 10 minutes, he can tell you what it takes most people a week to try to figure out. The guy's just really intuitive. He's just really in touch with the trucks and racing in general …"
Harvick says he is happy to pitch in and help Newberry, a fellow Bakersfield, Calif., native and owner of various race teams on the West Coast.
"Bob has a massive business in itself that he runs in California, so to be able to help and participate in some of the things that I like to do, whether it be drive the truck or help them get the people involved or help take the next step from a performance side, will definitely allow me to dabble in it (ownership), I guess you could say," Harvick explained. "It will allow me to be at home and have stuff in the shop and look at it, walk in at night like I used to and look around and make sure everything is going the way I think it should go, and then tell Bob whether I think it's right or wrong, and whether he thinks it's right or wrong, tell him what I think is right or wrong. Bob has a lot going on out west, and hopefully we can get it up and running to the point where he doesn't have to do anything but come to the races and the shop on occasion."
Although he cannot consistently be in the North Carolina race shop, Newberry plans to attend every Truck Series race in fulfillment of a promise he made to son Brennan as a child.
"Since Brennan was nine years old, I told him I wouldn't miss any of the races, and I've been true to my word to this point," Newberry reflected. "He's 23 years old and I've never missed a race yet and don't have any intentions of doing that because it's my son."
Newberry says he maintains daily contact with NTS Motorsports Competition Director Bruce Cook, and between him and Harvick, the organization should be in good hands.
"I've got to express my gratitude to Kevin Harvick," Newberry stated. "Kevin's been there, he's done it. He doesn't have to do this. Kevin's really stepping out and, as a friend, helping NTS build up to where Kevin actually ended up with KHI, and just to have the opportunity to do that is a dream come true.
"We've got a lot of abilities," he added. "We have not only audio conferencing but video conferencing as well. So, whether I'm there or not, I can be 2,000 or 3,000 miles away and still see everything that is going on. I'll have day-to-day contact with Bruce Cook, and so I'll be there without having to be there."
From one NASCAR team boss to another, Harvick likes what he sees in Newberry's management style.
"He listens to everybody, but in the end, he makes a decision based upon the information he has that he thinks is right," Harvick pointed out. "He's not just going to listen to me or Bruce or Ron. He's going to make a decision he thinks is right for his company … he's very straightforward. He doesn't beat around the bush. He tells you why he made the decision he did and moves on. And everything seems to have happened really quickly. When anything happens quickly, that's kind of my style."
Hornaday insists he is equally impressed by Newberry's managerial prowess, tempered with a willingness to consider Harvick's advice.
"He's been talking to Kevin on some of the stuff -- how to run the business to be successful and some of the mistakes Kevin made so that we don't have to go down that path," Hornaday said. "They speak rather frequently on how to run the business and mainly how to run the competition side of it. He jumped in with the building, ordering more trucks from Ronnie Hopkins, getting the right fab guys, got our own paint-and-body here. So it will be our own turnkey company sitting right here at (the former) KHI (building)."
Harvick contends NTS Motorsports' expanded commitment to the Truck Series is beneficial to the health of the series.
"It's a great deal when you can put this type of deal together for the Truck Series," Harvick said. "I'm excited to see how the third truck shakes out and who gets to drive it. Hopefully we can see it on the track a lot. It's exciting for the Truck Series for someone to come in with the enthusiasm and effort they're going to put in. That's really right back to the number of truck teams that we (the former KHI) had when we shut the shop down, so that's a good thing."
Hornaday, who won two Truck Series championships and 25 races for KHI, views Cook and their chemistry as one of the team's biggest assets heading into the new season. The duo won two races and earned three top-five finishes in their four races together late in 2011.
"Just the communication – he (Cook) believes in me and I believe in him," said Hornaday, who will serve as a mentor for rookie Newberry. "He doesn't tell me what to do and I don't tell him what to do. I do my job and he calls a great race. The equipment, when it unloads, it's good.
"He's no stranger to racing," Hornaday added about Bob Newberry. "He's got teams out in California – he runs the K&N Series, Late Models and other cars. He knows what racing is all about. He's got more than 1,000 employees out in California and knows how to run a business, and that's what we need -- someone to take it to the next step -- and with him purchasing the KHI building, the trucks are sitting back there with a brand-new chassis and everything is going really well … There is no reason we can't go to Daytona and run well. Right now we feel we can unload and be a top-five competitive truck, and if we didn't, then we wouldn't be doing it."