Harvick on Pocono: 'I don't know how the engine didn't blow up'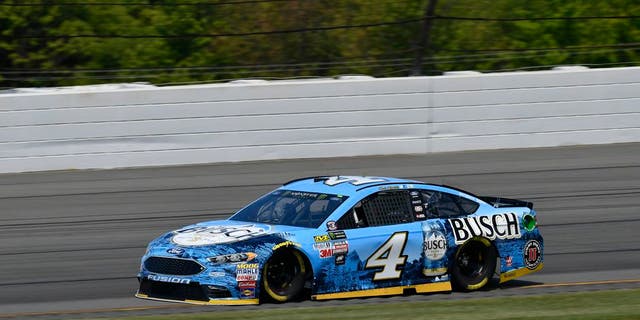 NEWYou can now listen to Fox News articles!
The biggest surprise of Sundays Pocono 400 Monster Energy NASCAR Cup Series might have been Kevin Harvicks second-place finish.
Now Harvick is a past series champion and his Stewart-Haas Racing team is one of the elite squads in the sport, so most weekends a Harvick runner-up finish wouldnt be the least bit surprising.
But at Pocono Raceway on Sunday, Harvick missed a shift in his SHR Ford, accidentally going from third gear to second instead of to fourth.
Ordinarily, such a mistake would break the engine immediately, as it did when Dale Earnhardt Jr. made the same gaffe in practice Friday and then again in Sundays race.
Earnhardt broke two engines this weekend, but somehow the Ford powerplant built by Roush Yates Engines survived just fine, allowing Harvick to nearly steal the victory from Ryan Blaney and the Wood Brothers Racing Ford.
The end result was a seasons-best second-place for Harvick, who drove the No. 4 SHR Ford to a top-five finish for the fifth time in the last eight races.
Really proud of the engine shop, said Harvick. I don't know how the engine didn't blow up with the thirdtosecond shift.Obviously the durability is good enough in the engines to do that.
In the closing laps, Harvick and Blaney waged a battle for the ages going for the win, but Harvick didnt have the handling to get past the second-year Wood Brothers driver, who scored his first career Cup victory.
We ran him down, just never could charge the corner hard enough to get to his bumper, Harvick said of Blaney. That was our only weakness. I mean, we had the car where we needed it pretty much in every corner, just couldn't charge any of the corners like I needed to with the stopping power that I had.
Just really had to manage that, but everywhere else, the car handled flawlessly all day and didn't really make any adjustments on it other than a little bit of air here and there.