Hart/Ross double not on Sedins' minds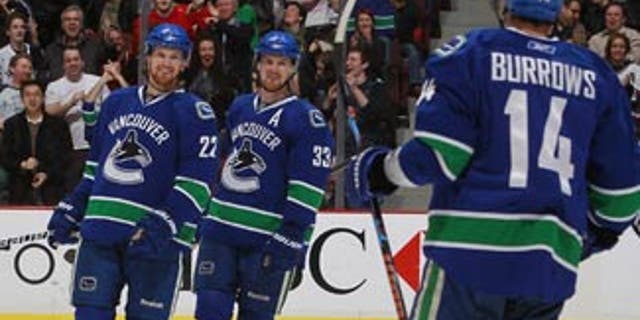 EDMONTON -- Vancouver Canucks captain Henrik Sedin won the Art Ross Trophy as NHL scoring leader and was voted the Hart Trophy winner as League most valuable player last season.
If twin brother Daniel Sedin, who leads the scoring race with 100 points going into Tuesday's game against the Edmonton Oilers, can do the same this season, it'll be a first -- brothers never have won back-to-back scoring titles, let alone scoring titles paired with MVP awards.
"I don't think you think about it during the year, though," Daniel Sedin said. "You try to come into every game and play as solid as you can. Our goal the last few years has been to be consistent every night. That's more key to us than scoring goals or scoring points. Obviously, I'm in a position to have a chance to win it, but it's nothing I really think about. Probably more after you're done playing.
"Right now, you're so caught up in everything and even the summer, too. There's always next season to look forward to ... when Henrik won it last year, that's the one thing he said. After his career is done, that's one thing he can look back on."
With the Canucks looking to bounce back from a 4-1 loss to the Oilers in Vancouver on Saturday, Daniel Sedin is six points ahead of Martin St. Louis of the Tampa Bay Lightning.
Henrik Sedin, who topped the scoring chart with 112 points last season to become the first Swede to win the Art Ross Trophy since Peter Forsberg, is fourth with 92 points.
"Obviously, it would be something really special," linemate Alexandre Burrows said of back-to-back scoring titles for the Sedins. "Last year Henrik had a great season for our team and really led the way offensively and was a key leader. This year it's been Danny. He's been scoring timely goals all year and he's been able to step up his game when it's needed."
Henrik Sedin has a goal and 7 assists in the first five games of the season series with Edmonton and 12 goals and 46 assists in 62 career games. Daniel Sedin has 3 goals and 3 assists in the season series and 29 goals and 27 assists in 59 career games.
Eberle looking for team lead -- Rookie Jordan Eberle scored the winning goal and added an assist in the Oilers' 4-1 win against the Canucks and now has 41 points in 65 games.
Eberle needs 2 points in Edmonton's final four games to capture the team scoring title. Ales Hemsky, Taylor Hall and Sam Gagner, all out for the season with injuries, are tied for the lead with 42 points.
Around the rink -- The Canucks won the first four games of the season series before the loss Saturday and have outshot the Oilers 170-117 in those five games ... With two home games remaining the Oilers are 12-21-6 at Rexall Place and will set a franchise record for fewest home wins in a full season. The previous low was 15, set in 1995-96, when they went 15-21-5 … Forward Mikael Samuelsson returns to Vancouver's line-up after missing six games with a thigh injury. Goalie Devan Dubnyk, who made 40 saves against the Canucks on Saturday, will get the start.