Hart, Philly singer, relishing Monday's opportunity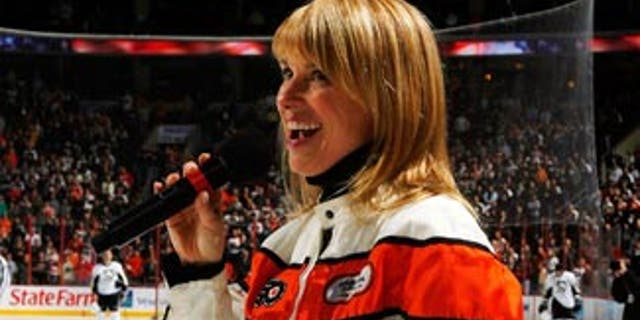 PHILADELPHIA -- Before Monday's Game 2 at the Wells Fargo Center, anthem singer Lauren Hart will be the undeniable center of attention when she performs her spine-tingling rendition of "God Bless America."
It will be less than 24 hours since President Barack Obama announced that Osama bin Laden, the mastermind behind the 9/11 attacks, was killed in a firefight Sunday with U.S. forces in Pakistan on Sunday.
"Just under normal circumstances, it's so incredibly exciting and loud down there, but this is different; it made me think (Monday morning) when I was thinking about singing," Hart told NHL.com. "I remember singing "God Bless America" almost 10 years ago during the (preseason) game that was halted for the speech given by President Bush after it all happened."
It was Sept. 21, 2001, when the third period of the Flyers exhibition game with the New York Rangers was canceled as Bush's speech to Congress was broadcast on the center-ice scoreboard and watched not only by fans in attendance, but the players on the ice.
By the time Bush concluded his address 36 minutes later, the teams lined up to shake hands and the game was declared a 2-2 tie. In the speech's most dramatic moments, spontaneous cheers of "USA! USA!" rang out.
Hart expects a similar atmosphere Monday prior to Game 2 between the Flyers and boston Bruins in the eastern conference Semifinals. Boston leads this best-of-7 series, 1-0.
"From that moment on, I sensed a change in the way people looked at the anthem," Hart said. "I think it meant something new to people again and it's been that way ever since. I can imagine it's just going to be that much more (on Monday)."
Hart, the daughter of legendary Flyers' broadcaster and Hockey Hall of Famer, Gene Hart, has become the soul of a city that has lived and breathed by its warrior mentality for decades. Heck, she's usually adorned in an old-time Flyers' T-shirt and leather jacket whenever she belts out her duet of "God Bless America" along with a video of Kate Smith's version before the big games.
Monday will certainly be one of the biggest. Sunday night, Philadelphia Phillies broke out into spontaneous cheers of "USA, USA" as the news of bin Laden's death spread throughout Citizen's Bank Park during a game against the New York Mets.
"Not until (Monday) morning while listening to the radio and hearing the people talk about 'God Bless America' tonight did it dawn on me that this would be important to people and it would be a special moment for everybody in that building tonight.
"I feel so fortunate to do what I do," she continued. "I really see the people and I really do look at faces and I see how they react. I know there's going to be a lot of tears. I see it on a regular basis, but (Monday), I know it'll turn into something even greater."
Hart admitted that while she didn't suffer a loss during the 9/11 terrorist attacks, her younger brother was scheduled to work in the one of the buildings of the Twin Towers that morning, but decided to remain home instead since he was sick. Brian Hart was employed by Deutsche Bank Americas of New York.
"Brian was supposed to be in one of those buildings and I'm close with my brother but I didn't talk to him every day of his whereabouts or what he was doing," she said. "It just so happened that morning I knew he hadn't gone into work because he was sick. He was talking to me the night before and said he wasn't feeling good and wouldn't be going in. If I had not gotten that phone call from him, my day would have been completely different."
Flyers defenseman Matt Carle, born in Alaska, has always looked forward to Hart's rendition of the anthem with Smith. Still, he admits Monday's version is going to be pretty emotional.
"I think the building will be electric," he said. "It's one of those things where I'm sure there won't be some dry eyes in the stands. A lot of people, especially on the East Coast, have connections to 9/11 one way or another. So, hopefully, it brings closure for them and kind of brings all that together."
Flyers forward James van Riemsdyk agreed.
"I think about (hearing the anthem) and there are a lot of great people in the country who love our country very much so I'm sure (Monday), hearing the anthem, will be pretty special," van Riemsdyk said.
Bruins forward and Toronto native Chris Kelly realizes the significance of Monday's anthem following the off-ice events that transpired Sunday evening.
"We read the papers and hear the news and know what's going on in the world," Kelly said. "Obviously, being in the U.S., I'm sure you'll see the reaction when the anthem is sung and how much it'll mean to this country and the people."
Follow Mike Morreale on Twitter at: @mike_morreale