Harrelson remembers playoff brawl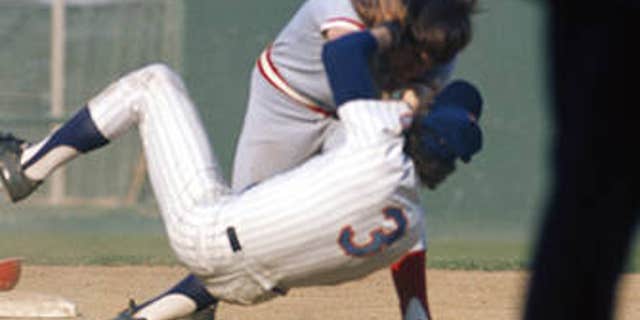 Some fights never really end. We take you back to Shea Stadium, Oct. 8, 1973.
"I can't believe it's been 40 years," Bud Harrelson said.
Neither can most people who witnessed it. They probably remember where they were when the Mets and Reds staged arguably the greatest brawl in Major League Baseball history.
That's a matter of opinion, of course. There have some doozy tussles since 1869. Think Juan Marichal taking a bat to John Roseboro's head in 1965, or Jason Varitek giving Alex Rodriguez a catcher's-mitt sandwich in 2004.
It's pure conjecture to rank those ahead of Nolan Ryan throwing a headlock on a charging Robin Ventura in 1993. But when it comes to making a memory, it's hard to beat what happened on this date 40 years ago.
"I didn't win," Harrelson said. "He didn't win."
We all won, at least if you root for moments when characters, consequences and pure craziness come together. How many brawls end with a player wearing the other team's cap and taking a bite out of it?
The setting was Game 3 of the NLCS on a Monday afternoon. Yes, kids, such games were once played regularly in the daylight. More ancient history:
The Big Red Machine was very, very good. The Mets were not.
They were in last place much of the season, and then went 19-8 in September to sneak into the playoffs. Everybody expected Cincinnati to steamroll New York, but they split the first two games of the series.
Jon Matlack pitched a two-hitter in the second game. That prompted Harrelson to joke to reporters that the mighty Reds "all looked like me."
He looked like a guy nicknamed "Twiggy." A 160-pound shortstop who finished his 16-year career with a Gold Glove, seven home runs and a .236 batting average. Oh, he had one other distinguishing trait.
"I didn't take any crap," Harrelson said.
Neither did the Reds, who had three future Hall of Famers in the lineup. One of them, Joe Morgan, approached Harrelson in the batting cage the next day.
"If you ever say that about me again," he said, "I'm going to punch you."
Mets first baseman Rusty Staub intervened before things got really hot. As Morgan was pried away, he muttered that another player was going to use the insult to fire up the Reds.
That player would currently be the fourth Hall of Famer if not for a couple of bad habits. But long before Pete Rose was even a gleam the Dowd Report's eye, fans either loved him or hated him.
Actually, most outside Cincinnati couldn't stand him. In the fifth inning, Rose tried to break up a double play. The irresistible hustling force met the immovable Twiggy.
Harrelson said Rose went in high and elbowed him. Rose said he went in hard and did no such thing. They discussed it ever so briefly at second base.
"That was a cheap (bleeping) shot," Harrelson noted.
"What did you say?" Rose asked.
Harrelson repeated his assessment.
"Then all hell broke loose," he said.
Rose pushed Harrelson into the dirt, which started flying in the afternoon sun. Third baseman Wayne Garrett shoved Rose off Harrelson. Reinforcements quickly arrived, setting off usual side skirmishes.
The main event shifted to Reds reliever Pedro Borbon vs. Mets pitcher Buzz Capra. They wailed away until order was restored. The infield was littered with the usual baseball debris of caps, chewing tobacco and bruised egos.
Borbon picked up a cap and plopped it onto his head. He was so steamed he didn't notice it was blue, not red. A teammate informed him, prompting Borbon to rip it off and stick it in his mouth.
Chomp.
The video would have gone super-viral if such a thing had been possible in 1973. Even without social media, it was soon obvious this was no ordinary baseball battle.
When Rose took his spot in left field, fans showered him with beer cans, batteries and assorted dumpster items. When a whiskey bottle whizzed by him, manager Sparky Anderson had seen enough.
"Pete Rose gave too much to baseball to die in left field at Shea Stadium," he said.
Anderson called his team off the field, which didn't exactly calm the crowd. League President Chub Feeney came down and met with the umpires. They asked the Mets to send a peace party out to the left field. Tom Seaver led the contingent, though coach Yogi Berra had the key talking point.
"Keep quiet," he yelled. "Let them beat us. We're ahead 9-2."
The fans chilled when they realized the Mets were in imminent danger of forfeiting a game they led by seven runs. But Rose would never take left field again at Shea without hearing it from the fans.
It also won Harrelson a spunky place in New York's heart. He always wore a Superman T-shirt under his jersey. The next day he showed up with a welt over one eye and an X taped over the S symbol on his T-shirt.
"I hit him with in the fist with my eye," he joked.
Harrelson became the symbol of those motley Mets. Inspired by the brawl, they derailed Big Red Machine in five games. New York lost the World Series to Oakland, but ask any Mets fan what they remember most about the fall of '73.
"I had fathers ask me about the fight," Harrelson said. "Now their sons ask me about the fight."
He's now part owner of the minor-league Long Island Ducks. As much as everybody else likes to talk about the fight, he and Rose never did. Not even when they were teammates in Philadelphia six years later.
"It was baseball," Harrelson said. "I had a lot of respect for the way he played. I just didn't like what he did at that moment."
They may not have discussed it, but they sure acknowledged it. A few months after the fight they were at a function in New York. Somebody brought a pair of boxing gloves. Each put one on, and Harrelson posed for pictures with Rose's glove pressed against his face.
He got the gloves and donated them to the Make-A-Wish foundation. They brought $450 at a charity auction. A couple of years ago, the owner sold them back to Harrelson for $600, which was also donated to Make-A-Wish.
Harrelson has signed thousands of photos of the fight over the years. Charlie Hustle's done the same, and Harrelson began to notice what Rose inscribed.
"It's better to win the fight than the game."
Harrelson began adding his own inscription.
"It's better to win the game than the fight."
Then he adds "National League Champs, 1973."
No hard feelings, of course.
"I didn't intentionally start this," Harrelson said. "If he didn't do what he did, it wouldn't have happened."
Attempts to get Rose's view for this story were unsuccessful. He'd probably say what he said right after the game.
"I slide hard, but I don't play dirty baseball."
He sure played memorable baseball, though this anniversary crept up on Harrelson. He didn't realize it was coming until a day ago. Now he'll pause to look at the pair of boxing gloves hanging in his basement.
When it comes to baseball fights, it was a knockout.
"It's what people remember," Harrelson said, "and I can't blame them."
Like a certain Mets cap, they'll probably be chewing on it 40 years from now.