Harper homers as Nats hurt Mets' home-field hopes for NLDS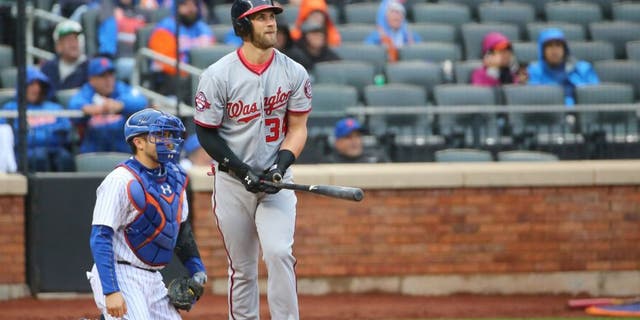 NEWYou can now listen to Fox News articles!
Bryce Harper dented the New York Mets' playoff position, connecting in the eighth inning for his 42nd home run that sent the Washington Nationals to a 3-1 win Saturday in the opener of a day-night doubleheader.
The Mets' fourth straight loss dropped them one game behind the Los Angeles Dodgers in the race for home-field advantage in their NL Division Series matchup next week. Each team has two games left.
Mets starter Noah Syndergaard struck out 10, giving up just two hits in seven innings in what amounted to a playoff tuneup on a misty, chilly day. The doubleheader was forced by a rainout Friday night.
Harper hit a tiebreaking, two-run shot with two outs off Addison Reed (3-3). Acquired late in the season from Arizona, Reed hadn't allowed a run in his first 15 appearances for the Mets.
Harper tied Colorado's Nolan Arenado for the NL lead in homers. The long drive to right field came right after second baseman Daniel Murphy bobbled a potential double-play grounder, and gave Harper 99 RBI.
Rafael Martin (2-0) got one out as the Nationals ended a six-game skid against the Mets. Felipe Rivero worked the ninth for his second save.
Before the game, Mets manager Terry Collins talked about his team trying to regain its ''edge.'' Instead, the Mets fell to 5-6 in their last 11.
Mets star David Wright struck out three times. When he fanned to finish the fifth, he flung his bat and slammed down his helmet so hard that it nearly bounced to the dugout.
Gio Gonzalez shut out the Mets on three hits for six innings. New York broke its 23-inning scoreless streak in the seventh on an RBI single by Juan Lagares off Matt Grace.
Harper began the day with a two-point lead over Miami's Dee Gordon in the NL batting race. As some fans chanted ''Papelbon'' - a reference to his recent dugout brawl with now-suspended teammate Jonathan Papelbon - the Nationals star was hit on the inside of the left shin by a pitch in the sixth.
Harper briefly went down on the dirt and Mets catcher Travis d'Arnaud patted him on the back. Harper was checked by a trainer and stayed in the game.
Clint Robinson homered in the Nationals seventh.
Collins planned to mix-and-match his lineups in the doubleheader. He started Lucas Duda and Murphy against Gonzalez in the opener, hoping the lefty vs. lefty matchups would help them prepare to face Dodgers ace left-hander Clayton Kershaw.
TRAINER'S ROOM
Mets: LHP Steven Matz got an injection for his sore back and ''hopefully that helps him a lot,'' Collins said. The 24-year-old rookie is 4-0. He missed two months because of a partial muscle tear on his left side earlier this season, and hasn't pitched in a game since Sept. 24. The Mets would like him to start against the Dodgers - he could get a tuneup next week in the instructional league.
UP NEXT
Nationals: RHP Max Scherzer (13-12, 2.91 ERA) starts the second game of the doubleheader. He'll try to finish over .500 in his first season with Washington.
Mets: RHP Matt Harvey (13-7, 2.80) is 5-0 in his last 10 starts. He's thrown 183 1/3 innings this season - there had been a lot of talk lately that 180 was his target. Harper is 0 for 20 with 11 strikeouts and three walks lifetime vs. Harvey.