Hardy returns to Cowboys, and his focus is on sacks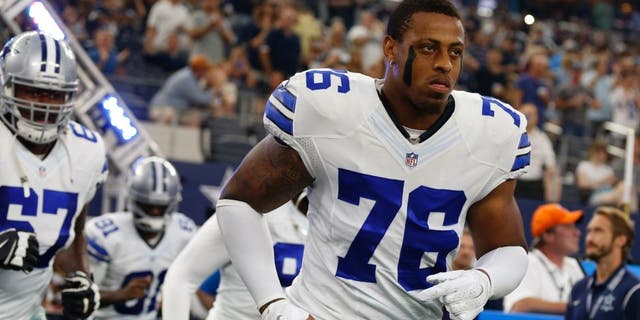 NEWYou can now listen to Fox News articles!
It'd be an understatement to say it's been quite a journey for Greg Hardy, who began his first week of game prep with the Dallas Cowboys on Tuesday.
The Pro Bowl defensive end was welcomed back from his four-game suspension on Monday -- a suspension he incurred in the spring for his role in an assault case in the summer of July 2014.
He talked to the media for the first time Tuesday afternoon after the last 15 months have seen him arrested, convicted, placed on the commissioner's exempt list, cleared of wrong-doing, signed by the Cowboys and suspended -- only to have that suspension successful appealed.
And none of that even includes productive offseason and training camp with the Cowboys, before Hardy's suspension went into effect.
"It's been a blur, getting ready to come back," Hardy said. "And now that I'm back, I don't reminisce. I don't look back, other than to know that I need to get forward, I need to get to progress, and I need to get to the sacks, and I need to get to the place where I need to be to help this team. That's where we're at right now."
Hardy spoke at length about a variety of topics, though he did his best to keep the focus to his on-field impact. The Cowboys are welcoming the defending-champion Patriots and Tom Brady to AT&T Stadium this weekend, and they'll need all hands on deck after a rash of injuries have dropped them to a 2-2 record.
"I'm sorry I couldn't be here for my teammates. The worst feeling in the world is not being there for somebody you care about or somebody that needs you," Hardy said. "That's what we need, a full team, and everybody pulling their load. And that's what I'm going to do when I come back."
Sunday marks just the first of 12 possible games for Hardy, though. It seems logical to think that, as much as Hardy might deflect about off-the-field issues, he isn't done answering questions about them.
But for the time being, his focus is fairly simple.
"Sacks," he said. "I like tackles, and tackles for losses. And what else? I think that's it -- picks, touchdowns and blocked field goals. I'll take all that."