'Happy' Lloris won't be joining Manchester United, insists Pochettino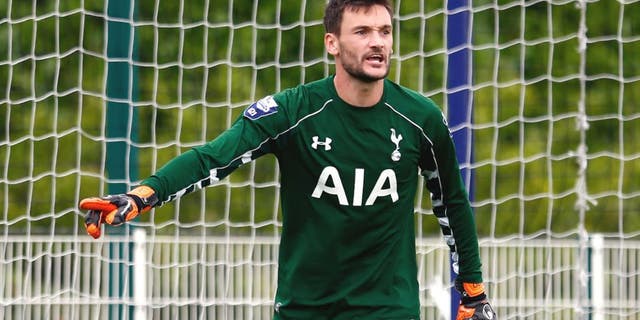 Tottenham goalkeeper Hugo Lloris is happy at White Hart Lane and will not join Manchester United this summer, insists Mauricio Pochettino.
Lloris has been linked with a move to Manchester United as a possible replacement for Real Madrid target David de Gea.
But Pochettino has dismissed the speculation, insisting that Lloris, who extended his contract at Tottenham to 2019 last summer, wants to stay at Spurs.
"There are a lot of rumours," Pochettino said, "(but) Hugo is very happy to be here.
"His commitment with the club is high. I think we need to be happy because if Manchester United want Lloris, it's because he's a great goalkeeper.
"We have a very good goalkeeper, but Hugo has a contract here and he is happy here and he wants to get success here."
Lloris has previously stoked speculation by expressing his desire to play in the Champions League, but Pochettino says the France captain wants to fulfil this ambition with Tottenham.
When asked about Lloris's comments, Pochettino said: "Yes, but keen to play in the Champions League with Tottenham, not with another club.
"He told me that 'I want to play in the Champions League with Tottenham'."
Lloris missed Spurs' opening game of the season at Manchester United last week after fracturing his wrist in pre-season.
Pochettino has rejected suggestions that his decision to leave Lloris on the bench at Old Trafford last weekend was related to the ongoing talk about the 28-year-old's future.
"No, no, no," he said. "I didn't take this decision because of all the rumours that happened. No, no, no. Hugo wasn't ready.
"Maybe if the game last week was Stoke City, he wouldn't play, the same decision."
"I think that you misunderstand me. It is not about the injury. The player is not only one or two hands, one or two legs. It is about all. For me, he wasn't fit to play 90 minutes."
Lloris is expected to start against Stoke on Saturday, when he will wear the captain's armband after being confirmed as Pochettino's third permanent skipper since arriving at White Hart Lane nearly 15 months ago.
Previous captains Michael Dawson and Younes Kaboul both left the club after just one season with the armband, to Hull and Sunderland respectively.
But the Spurs boss laughed off the trend, claiming these departures were merely a "coincidence".
"Jan Vertonghen and Harry Kane are the vice-captains," he added.
"It was common sense. I think that Hugo deserves to be the captain and after we have Jan Vertonghen, Harry Kane. It's a good reference for the group. It's a very good mix."