HAMMOND: Logano Talented, Not Yet Defined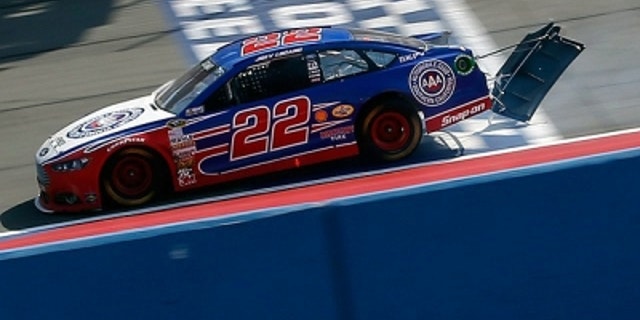 Obviously, with his new team and new sponsor, we have seen a change in Joey Logano and how he drives this year.
I think part of that is in response to the criticism he has received up until this point that he had never lived up to the hype that surrounded him when he moved into the NASCAR Sprint Cup Series. Logano joined the Cup series as a full-time rookie with Joe Gibbs Racing in 2009. He moved over to Penske Racing this year.
The young man is truly gifted and talented. When it comes to the Nationwide Series, his results have been phenomenal with 18 wins. However that success has never, at least to this point, translated over to the Cup series, where he has two wins.
I think the change-over to Penske Racing was a chance for Joey to start over again and re-focus on the big picture. I think this year we are obviously seeing a more aggressive, more determined driver than ever before. I still believe, though, that he is searching for what kind of driver he needs to be and how he needs to race.
Naturally, along the way you are going to make some mistakes to determine and reestablish who you are. Right now, after the last two weeks' events — a confrontation with Denny Hamlin after the race at Bristol and then a crash with him on the final lap at Auto Club Speedway on Sunday followed by a pit-road fracas with Tony Stewart — I think he needs to sit down in front of a mirror and ask himself is he doing it right or is he doing it wrong.
If he has a veteran that he leans on, or even his teammate Brad Keselowski, that he can go to and they can help him sort it out, then he needs to do that, too.
Trust me, it's clear that Joey Logano has the God-given talent to race with these guys. Sure, there are drivers and fans questioning his style right now, but the good news is that's something you can adjust on and fix.
Ernie Irvan comes to mind when thinking about Joey. Ernie rubbed a lot of people the wrong way when he first got into our sport. It literally got so bad that Ernie had to get up at a drivers meeting at the track and apologize to everyone for the way he had been acting on the track. After that moment, Ernie was looked at in a different light by the other drivers and he became a better, more well-rounded driver.
So Joey may very well be in that same situation right now.
It's going to be very interesting to see which path he chooses to take. It's clear the talent and desire is there, but I see him as a diamond in the rough. Now it's time to polish off the edges and really watch Joey shine both on and off the racetrack.