HAMMOND: Johnson Shouldn't Change Approach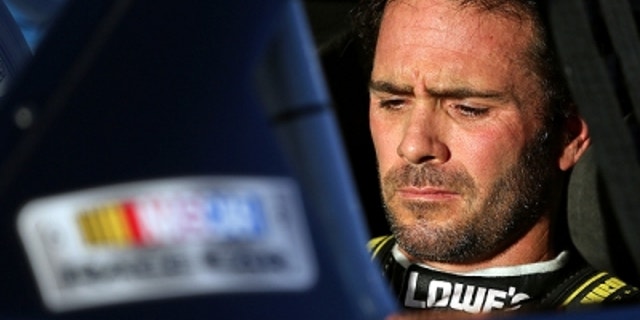 For Jimmie Johnson and crew chief Chad Knaus, this week is business as usual.
Although they lost the NASCAR Sprint Cup points lead in Sunday's race at Phoenix and enter this weekend 20 points behind leader Brad Keselowski, they don't need to change their approach this week. There's nothing Jimmie and Chad can do that's any different than they did last week than they did the week before.
They are prepared to sit on the pole and win the race each and every time they show up. Would that be different if the shoe was on the other foot?
If they were in Brad Keselowski's situation then they would probably race a little bit differently. Knowing that you don't have to win, then you race smart. Just like we're going to see Brad do.
Right now Jimmie and Chad have to prepare like they're behind, but there's nothing else they can do. If they go out and win the race and Brad winds up being 14th, then they've been on that side of the equation. They lose. There's nothing they can do about it.
They have got to have help. They have got to have racing luck go against Brad Keselowski like it did against them this last weekend. Unfortunately that's just the way the cards were dealt and there's nothing they can do about it.
Their options are pretty slim. You just go out there and do all you can and if you wind up winning the race and losing the championship than that's just what is meant to be.
For Brad Keselowski and his team, this race is different too. This is not their style. Their main desire is to go out and charge and be aggressive and for Brad to go out and run. But I think he has the ability to be smart and race within the guidelines that crew chief Paul Wolfe tries to set forth, which is necessary to close the deal out. How it's going to turn out, we'll have to wait and see at the close of the day.
It easily could be over before it gets started, just like we saw at Phoenix. Everybody pretty much figured when Jimmie hit the wall there, game over. Then and there. It's really going to boil down to whatever racing luck Brad and his group either have or do not have.
If we go back and look at the very first Chase for the Sprint Cup that we ever had, Kurt Busch maxed out racing luck when his right front tire came off the car and he happened to be able to turn right down pit road and not lose anything. That's when it's your day.
So we're going to find out whether it's going to be Brad Keselowski's day and all the hard work and everything that went into it to get him to that day pays off.
I'd rather be lucky than good any day.