HAMMOND: It Has All Come Together For MWR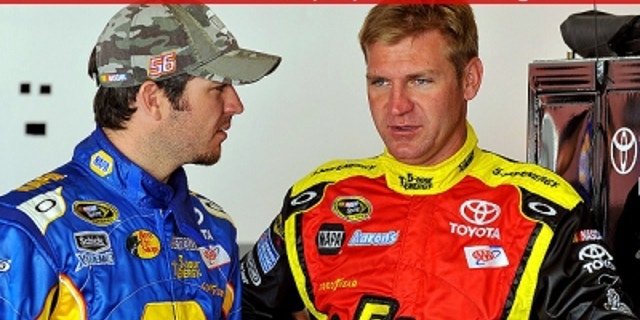 This year has brought NASCAR a surging Michael Waltrip Racing. Martin Truex Jr. has been running extremely well. Clint Bowyer just won Sunday at Sonoma. Even the No. 55 car, shared by drivers Mark Martin and Brian Vickers, has been awesome.
When you combine the talents of the drivers the organization has, along with the talents of such as competition leader Scott Miller and crew chief Brian Pattie, plus give the organization all better cars and motors, then it really should come as no surprise the success it is having.
It's a classic example of the old saying "the sum of all the parts." That and a newfound leadership internally have MWR hitting on all cylinders right now. Leadership is always a premium commodity. Miller came over from Richard Childress Racing. If you look at RCR these days without him, they don't seem quite as effective.
I think Miller is very much a key element in the surging MWR fortunes. I think the inspirational leader of MWR has to be Mark Martin. I think he has been somewhat of a calming effect over there. He brings veteran leadership to the table. It's one thing to think you are good, but when someone like a Martin comes from the outside and shows you that the product you are producing is good, well that speaks volumes.
The other thing is you don't have Martin acting like a 53-year-old man. He acts more like a 25-year-old. He lives to work out. He likes listening to rap music. My point is Martin isn't your everyday veteran driver. He loves having only a part-time schedule. He has absolutely no problem sharing the ride with Brian Vickers, who is trying to rebuild his career.
To get that positive reinforcement from a proven winner like Martin only elevates the entire organization. Combine that with the 5 Hour Energy attitude and personality that you get with Bowyer, and everyone around you is going to be enthusiastic and wanting to win.
So with Truex Jr., Martin, Bowyer and Vickers, MWR definitely has a different kind of swagger than it did in 2011. Even though Truex Jr. hasn't won yet, the team really is a lot closer than a lot of people give it credit for. He's ninth in the points. He also has finished in the top 10 in half the races we've run so far this season. He also has a pole position and four other top-10 qualifying runs.
It's these kinds of performances that MWR is getting out of all three of its cars. The way all three ran last Sunday at Sonoma, there was a real possibility they were going to finish 1-2-3. MWR is raising its profile this year and showing people it needs to be considered a weekly threat like the top-tier teams Hendricks, Roush and Gibbs are.
Let's be honest, after all the struggles it went through in its very first year of existence, there were real questions of whether MWR was even going to survive. Now this organization has come out the other side. It has put wins on the board. MWR really has the "wow" factor with the fans this year in how it has turned things around and elevated itself in our sport.
The other real positive thing I have noticed is the teams' consistency at each track. Certain teams are good only at certain tracks. The guys and gals at MWR are starting to look good at every racetrack. That kind of consistent performance is turning a lot of heads in NASCAR right now and is a big tribute to everyone's hard work, from the drivers on down at Michael Waltrip Racing.