HAMMOND: Gen-6 Rolls Dice In Vegas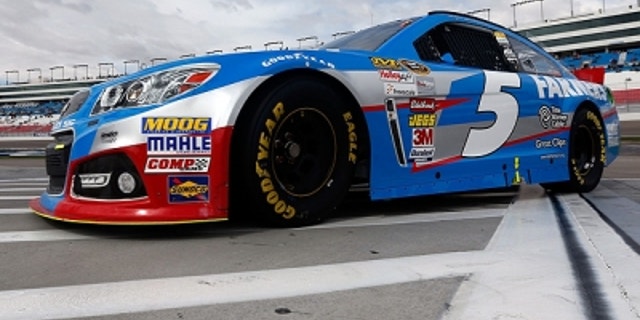 A lot of fans have been asking me all week what they can expect in Sunday's NASCAR Sprint Cup race at Las Vegas Motor Speedway.
Obviously this is the third different track of the season for this new Generation 6 car. It's the first high-banked, fast non-restrictor plate race of the season as well. So I think my answer right now is we will just have to wait and see.
Kobalt Tools 400 at Las Vegas Motor Speedway Starting Grid
A lot of valuable information was learned at the open test on Thursday. Being able to decipher what they learned on Thursday might go a long way in changing the way teams approach this race from in the past. Conversely, we might find there will be very little change at all.
Once again, we are still really early in the development of this new Gen-6 car to be able to predict exactly what we are going to see.
To me, that makes it really intriguing because we don't know. Thursday's test will go a long way in helping gather much-needed information. Testing always does that across the board.
I also think we are going to see a much better race out of this Gen-6 car than we did at Phoenix. Let's be clear, I didn't think the race at Phoenix was all that bad. What I am saying is I think Sunday's race at Las Vegas will be even better.
Vegas Notebook: Saturday
Last Sunday, there were a lot of comers and goers. Some cars that were strong the first third of the race, such as Kasey Kahne's, weren't in the mix when it came down to crunch time.
Some guys had great race cars, and that's how they got up front. Some drivers benefited from great pit work, and that put them up front. On the flip side, you had drivers such as Mark Martin, Kasey and Greg Biffle that were strong early but just seemed to lose the handle of the car late in the race.
Denny Hamlin was really impressive. He started in the rear of the field but sliced and diced his way to the front. He made a heck of a last-lap charge to try to take second place from Jimmie Johnson.
So for me, I really believe we need to wait until Sunday and see what we get. That's why I think this early part of the season is so much fun — because, right now, it's really pretty much a clean sheet of paper at all these tracks with this new car. We just don't know what we have or will get out of it.
Sometimes folks might get sick of hearing the word "unknown." But guess what, in this situation, that's exactly what we got. So until we have clear-cut answers, we simply go into Sunday's race expecting the unknown.