HAMMOND: Five Drivers Desperately Need A Win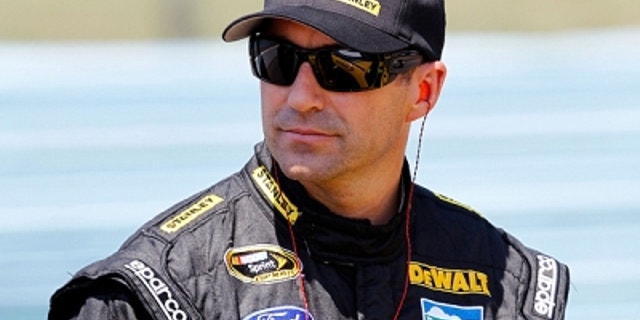 With his second consecutive Watkins Glen victory, Marcos Ambrose has thrown his hat in the ring as yet another possible NASCAR Chase for the Sprint Cup player. He sat on the pole at Michigan back in June, so he has to be very excited that the Cup teams are there this weekend. We also have Bristol coming up after that, and he is really strong there.
So with four races to go until the 2012 Chase field is set and with two really good tracks coming up for him, Ambrose might muddy the Chase waters just a little bit more these next couple weeks.
Jeff Gordon was, what, 500 yards from his day at Watkins Glen being completely different. He was hoping to head to Michigan with his momentum of late continuing, but that didn't happen Sunday. The thing that concerns me is his attitude. I feel like Gordon left the Glen with a really bad attitude and a bad taste in his mouth. I just hope it doesn't carry over into this weekend's race.
I just don't like having a driver leave the racetrack with the feeling he was cheated. That's exactly how I interpreted Gordon's post-race comments and body language.
Although Denny Hamlin continues to move backward in the points, I still think we all know he is definitely in the Chase. He has slipped to 10th in the standings, with Kasey Kahne in 11th. Both have two wins, and that all but guarantees them a berth in the Chase.
The guy who really took it on the chin Sunday, in my book, is Kyle Busch. He was all but in control of his fate, where the Chase is concerned, if he had gotten back to that start/finish line and won that race. That would have given Busch two wins this season.
I definitely understand why Busch was so upset after the race. Let's face it, his whole season and making our version of the playoffs was right there within reach. Then it got away from him. Although he made a nice recovery and saved some valuable points, Busch needs that second win, and it slipped away Sunday.
The one that just slipped through his fingers has to hurt a lot. Busch, though, has to put it behind him because he has these last four regular-season races coming up before the Chase. The positive news for him is that he has won a lot of races at each of these tracks.
This has been a weird season for Busch. We are used to talking about him having multiple wins across all three of NASCAR's top touring series. For him to be at this point in the season with only one Cup win and facing an uphill struggle to even make it into the Chase is totally out of character for him. It just seems no matter how hard he tries, he simply can't close the deal yet on that elusive second victory.
He's not alone searching for that second win. Gordon, Joey Logano, Ryan Newman and now Ambrose are all sitting right there with a single win apiece. Each of these five drivers sees the sands inside the hourglass running out, and each is getting really antsy. Each needs only one more win to turn his season around and propel him into the Chase.
All I can say is everybody better hold on. With desperation in the air, anything can happen. No one knows what it is going to be like in these next four races. You just have to believe that if Busch or any of them are running second to another driver on the last lap of any of these remaining four races, well, all I know is I wouldn't want to be that driver ahead of them.