HAMMOND: Earnhardt Jr. At His Best In Gen-6 Car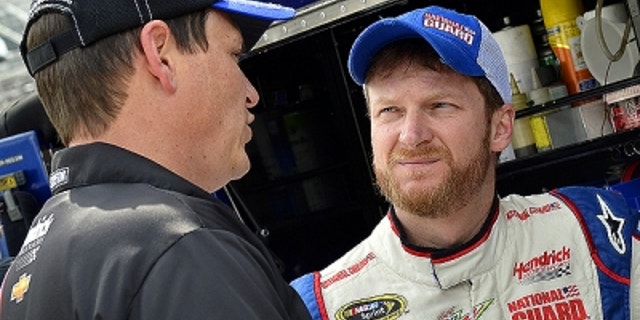 Dale Earnhardt Jr. heads into Martinsville this year as our NASCAR Sprint Cup series points leader. He has put together a really strong string of five top-10 finishes in our first five races of the season.
Now, the biggest question on the minds of everyone in Junior Nation is whether he can keep this going all the way up to and through the 2013 NASCAR Chase for the Sprint Cup.
I think last year, until he suffered a concussion late in the year, we got a real glimpse of the possibilities of that team. I think what we are seeing in 2013 is an offshoot of last year's success and has a lot to do with attitude and confidence. I mean this for the guy behind the wheel and the guys behind the wall.
Earnhardt Jr. seems to like and believe in this new Gen-6 car, much unlike how he felt about the old car. This new car seems to fit his driving style, and he is making it work. I think crew chief Steve Letarte has a definite feel for who his driver is. He and Earnhardt Jr. have great chemistry, and Letarte can give his driver what he wants.
This is a real opportunity for this team to shine, and so far this year, it is. Driver and crew have been extremely consistent. That consistency goes a long way in laying the groundwork for growing confidence. To win a championship, you have to carry this consistency all the way through the season.
We all know our season is very long. I sure hope these guys bring their "A" game all year long because I think it would not only be great for them, but also great for our sport.
Every driver wants to be the one to claim the first NASCAR Sprint Cup championship with this new car, and at least right now, that No. 88 is leading the way. Without a shadow of a doubt, the future for Dale Earnhardt Jr. is in his hands in 2013 and the sun is shining pretty bright on him and that entire team right now.