HAMMOND: Don't Mistake Good Racing For Feuding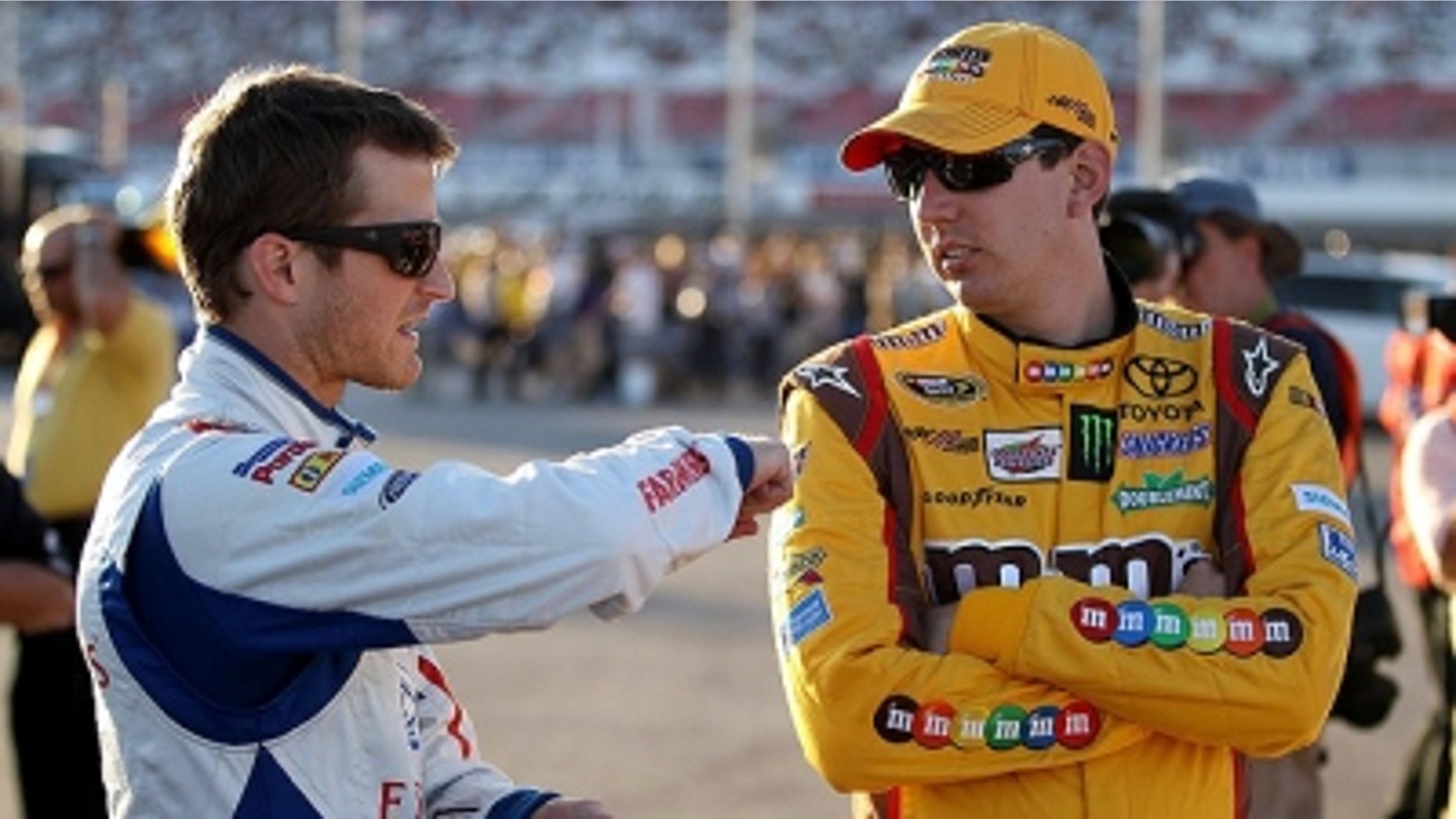 You know, a few weeks ago at Talladega, I was in the garage area and did an interview with Kyle Busch. It was following the incident between him and Kasey Kahne. Sometime later, I also got to talk to Kasey about his reaction.
When I was with Kyle, I could definitely see some remorse and actual frustration with himself over what had happened. We all know that Kyle is an aggressive driver. I have never felt Kyle was a dirty driver. Now aggressive — oh, heck yes. But never a dirty driver.
A lot of people are saying the pressure is getting to Kyle to perform up to the standards of his new teammate, Matt Kenseth. Some are saying that it's the carryover of frustration from 2012 and Kyle is trying to win every race on the schedule this year no matter what the cost.
In talking with him and being around him, I don't feel that's the case. I hope he can continue to do what he is doing in 2013. When things are going well, he is gracious, and when things go wrong, he mans up and accepts responsibility for his mistakes. This is a different Kyle Busch than we have seen in years past.
I know there are a lot of people out there, especially in the media, trying to create a feud between Kyle and Kasey. Sure, on the surface, especially after their third run-in Saturday night at Darlington, that's exactly what it appears to be. I really don't think it's that despite the fact poor Kasey has been on the short end of the Kyle stick three times this season.
I want to take you back to 1979 at the Daytona 500, when Donnie Allison and Cale Yarborough got together and wrecked each other. Everyone knows what happened next — "The Fight" — with Donnie and Cale and Bobby Allison joining in the fracas. That woke a lot of people up to the sport of stock car racing.
Now, however, put Daytona behind you and go forward to the next week at Rockingham. There they were again, Donnie and Cale sharing the front row. They once again wreck each other, almost at the start of the race. It wasn't a case of a feud however, but more of a case of two very passionate and aggressive drivers trying so hard. Those two really liked each other and got along really well.
We tell you all the time that when these guys put their helmets on, they become different people. Your race car driver buddy simply becomes one of 42 others that are in your way as you race for that checkered flag. When you are an aggressive driver who's up on the chip, like we like to say, it's easy to find yourself running into another just like that.
My point is, I really think that's what we are seeing between Kyle and Kasey. Both these guys have really found their own, in my opinion, in 2013. It's not going to surprise me in the least to see these two front-running cars rub fenders a lot more this year. It's just two aggressive competitors going for the same prize. Even Kasey admitted he didn't even know if Kyle touched him Saturday night, but he still spun out.
So I don't see a feud at all. I see good hard-nosed racing from two aggressive winning stock car drivers. I am not trying to defend Kyle, because that's not my job. I am just telling you the way I see it because I have seen it before over the years.
To me, its two just two marquee drivers who look like they could be headed for a collision course in the 2013 NASCAR Sprint Cup Chase. The bigger question is will it be a literal or figurative collision course. Trust me, as long as these two keep racing each other as hard and as aggressive as we are seeing now, then these two are going to have a few more "moments" before the season is complete.