HAMMOND: Crews Ready To Pit Gen-6 Cars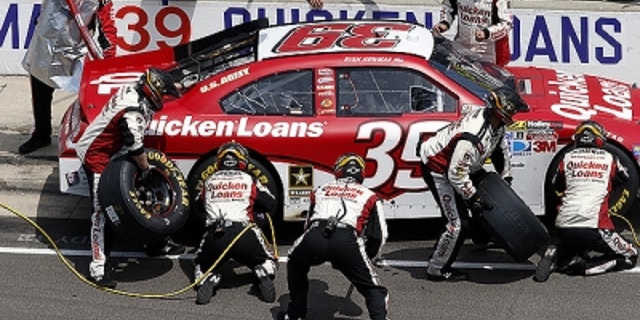 Obviously, this new Generation 6 NASCAR Sprint Cup car adds some minor wrinkles and changes to the pit crews and the way they will begin pitting the car.
It has been a challenge for these guys. I have been watching some practice tapes plus talking to pit crew coaches and teams themselves and I feel we will see little or no problem with this new car.
Yes I really believe it will be business as usual when it comes race day for these pit crews. I think everything about this new car will be adaptable for these guys because they are professionals and work so hard at mastering their craft. These guys also train so hard during the offseason to be prepared for the new year.
I don't think it matters what the year is or what kind of car it is. The pressure these guys to perform under is immense. Leaving a loose lug nut or a driver speeding down pit road are things that will happen in the heat of battle.
Saturday night under the lights you can expect to see these guys that go over the wall get the job done. Today's pit crews are such a critical part of the overall equation of a successful team.
Back in the day, the drivers had the ability to overcome mistakes that might happen on pit road. In today's NASCAR world, the competition is so extremely tight that even the slightest miscue can now cost a driver and his team the win. Sure, the driver is still the rock star, but now more than ever, NASCAR really is a team sport.
The driver can be having an awesome day and be the class of the field, but one mistake on pit road can end any thoughts of celebrating in Victory Lane instantly. Conversely, when a driver has undying faith in his pit crew and they help him beat other cars on pit road, well that gives a driver an added shot of adrenaline to drive even harder.
There is a consistent and constant pressure on these pit crews from the drop of the green flag until the checkered flag. You don't want to be that crew that has your car come in leading the race and goes back out in, say, seventh spot. That can frustrate a driver in a split second and unfortunately can set the tone for the rest of the race.
We all know there are those drivers like Kevin Harvick, Kurt Busch, Clint Bowyer and others that will call their teams out over the radio during a race when mistakes happen. Mistakes happen and mistakes are going to happen. It doesn't matter if it's a driver or the pit crew.
The championship-caliber teams and drivers are those that can put it behind them instantly and refocus on the task at hand and spend late Sunday afternoon laughing about that mistake from Victory Lane.