HAMMOND: Confidence Goes A Long Way In Chase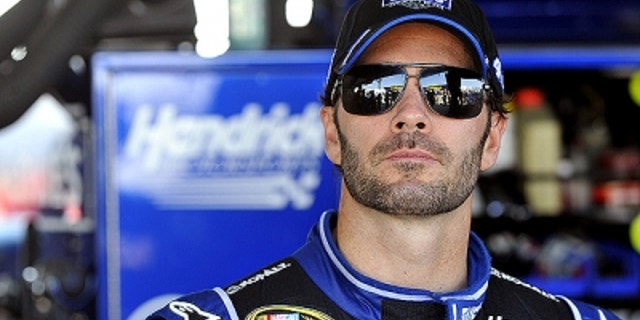 The way Denny Hamlin and his Joe Gibbs Racing team have entered the NASCAR Chase for the Sprint Cup, they have to be ranked right there along with Jimmie Johnson's team as having a shot at pulling this thing off.
I feel like that for the first time since Hamlin lost the lead in the championship a couple years ago he's finally got his confidence back. You believe that he and his team can have a slight miscue — I'm talking about if they have a bad race — and have the confidence that they can rebound. I think that he's ready to deal with the pressure and the ace in the hole has to be crew chief Darian Grubb.
Grubb has been there. Team owner Joe Gibbs and team president J.D. Gibbs have been around championship situations before. They've won with Bobby Labonte, and they've won with Tony Stewart. But when you have a guy who just came out of a championship like Grubb, and you have a driver like Hamlin who is so hungry and has all the talent in the world, the biggest thing is just getting and maintaining the focus and the attitude that is necessary to win.
They've figured that out. If they don't have something they can't get around, if they get caught up in somebody else's wrecks or have something like that happen that's totally out of their control, I look for those guys to be smart and be a contender throughout this entire Chase.
They're going to be there when we roll into Homestead, either leading this thing or putting pressure on the guy who is leading it.
Are they the most confident? I'm not knocking Hamlin, but when I talk to Jimmie Johnson, I just feel like, again, if there's a man who has something figured out and knows what he wants and knows how to go about getting it, right now, it's Jimmie Johnson.
It's just the fact he has been there five times and that he lost a year ago to Tony Stewart. He understood the deficiencies in that team. He understood the deficiencies in himself. He understood the deficiency between him and crew chief Chad Knaus when it mattered the most.
They had their ups and downs, and they were well within their right to have an off year when they lost it.
The important thing is, as with Hamlin's team, that you learn from that experience, good or bad. You learn from it, and, talking to Johnson, I feel like that's the reason he is also one of the guys you have to look at. Not just because he's a five-time champion — that's a given — but he also has the right attitude. He could have won 10 of these things before, but if you have an "I don't care" type attitude and you don't have a plan, you're probably not going to pull this off.
I think Johnson is refocused, and he really wants to regain his title. And that's going to be huge. Hamlin knows what he wants: He wants to take that title back to Joe Gibbs Racing.
So I think we've got an excellent battle shaping up here in the last 10 races. And by the way, there's a guy named Tony Stewart who also has a couple of points to prove that he doesn't want Grubb to go over and steal his thunder. In our business, you want to believe that you're always the smartest and you're always the best, whether you're a driver, owner or crew chief.
So I think we've got a unique situation here where Stewart has the chance to defend his title and Grubb has the chance to defend his title — they just happen to be on different teams this year.