Hamlin's back hasn't fully recovered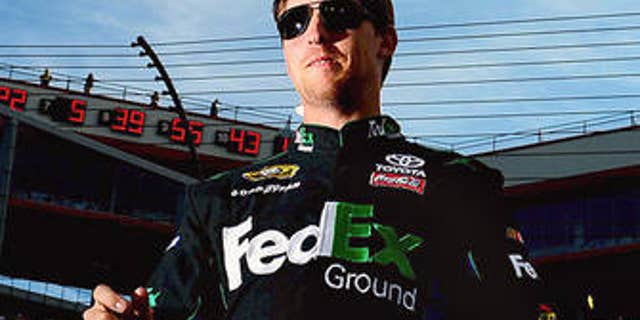 ASHEVILLE, N.C. – Early in the season it was clear 2013 was not going to be Denny Hamlin's year.
A wreck at Fontana on March 24 sidelined the perennial NASCAR Chase for the Sprint Cup contender for four races but Hamlin, 32, fought valiantly to return to competition.
Still, chronic back pain continues to plague the Joe Gibbs Racing driver. After Hamlin won the pole Friday, it was as if the high banks of Bristol Motor Speedway exacerbated the problem.
"My daily life is miserable," Hamlin said. "This is nothing."
Hamlin led twice Saturday night for a total of 23 laps. He remained in striking distance - with the help of pit strategy - until Brian Vickers got into Hamlin, cut his tire and took out seven additional cars.
"We cannot catch a break," Hamlin said. "You've got to laugh at it at this point. It's somewhat humorous."
So was his run-in with Kevin Harvick on pit road during the caution. Without seeing a replay, Harvick drove his mangled modified-looking machine into Hamlin's pit - then laid in wait. Hamlin simply punted Harvick out of his pit then discussed the situation.
"Luckily, we were able to talk right away and hash it out," Hamlin said.
Hamlin was able to salvage a 28th-place finish but after leading the most laps since Dover in June, he was expecting more.
"We were as solid of a car as we were," Hamlin said. "We had a car that could run in the top five, and I thought we were better than the 5 (Kasey Kahne). Who knows what would have happened?"
Hamlin is resigned to be a "spoiler" this season. While he's not giving up on winning, his most effective role over the next 12 races will be to help his teammates - Bristol winner Matt Kenseth and Kyle Busch - bring home the hardware for Joe Gibbs Racing. Despite not running a full season, Hamlin's worst finish in points to date was 12th over the previous seven years.
"I'd like to win two to three races going into the stretch," Hamlin said.
"Obviously, anyone that would hear me say that would think that's a stretch the way we've been running, but this is a team that is capable of winning a lot and we know that. We can turn it on at any time. We're just trying some things. Trying to get better. Trying to get a better feel so we have something to work on for next year. If we hit something like we did (on Friday) then we can be pretty tough going into the Chase and be a spoiler.
"It's not going to be many years where you can race free will and do anything you want over these last few races and have that chance. Usually, you're always so concentrated on the pressures of the Chase that you can't experiment and work on anything for next year. Now that we can be the guinea pig for Toyota if they want to try some stuff it could make us stronger even two, three years down the road. Once I get myself fixed, we should be fine."
As for Hamlin's back, surgery to repair his spine is still "on the table" at the end of the season. Hamlin contends that "once I'm strapped in I'm fine" but also acknowledges that certain tracks - such as Watkins Glen two weeks ago - "definitely took its toll." He describes the sensation as "a nagging pain that just won't go away" but one has to wonder how long Hamlin can play hurt.
Clearly, Hamlin has not been "fine" this season. Hamlin has shown he can post a fast lap. Friday was his third pole since returning to action in May. However, one fast lap does not constitute a comeback. In his past 10 races, Hamlin's best result is 18th. After 20 starts, Hamlin has a record five DNFs (did not finish) this season - all listed as crashes.
"I have to weigh the options," Hamlin said. "What options do I have? There are 10 different things you can do to help with either pain or the structure of your back I just have to figure out which one is the right one for me."
FOR HIRE Michael Waltrip Racing hopes to compile a short list of candidates to replace crew chief Rodney Childers, who announced his departure from the company Friday.
Childers, who is currently the crew chief for Brian Vickers and the No. 55 Aaron's Toyota, will join the No. 4 Chevy and driver Kevin Harvick at Stewart-Haas Racing in 2014.
"We've been in conversations with Rodney for weeks," said Ty Norris, MWR executive vice president and general manager. "We're going to sit down Monday to formulate a plan. We've been in the 'what if' discussions, but now it's time to make a decision. Once the company makes a decision, we'll be ready to move on."
Norris adds, "all options are on the table" when it comes to deciding whether to keep Childers until the end of the season or move in a different direction. Certainly, should the right candidate become available, Vickers would have time to acclimate to the new crew chief and hit the ground running next year.
Norris didn't seem concerned about MWR's current technology leaving with Childers.
"What we're running at Bristol in August is not what we'll be running at Bristol in April," Norris said. "The speed of change is so dynamic right now in this industry that those that keep up with the change will be the ones that have success.
"I'm very confident in the foundation that we've built over the years and the tools that we've developed -- and that cycle continues to improve every day. Between our sponsors and our ownership group, we're constantly financing the next performance gain and moving forward."
NUMBERS GAME 3: Positions gained in the point standings by second-place finisher Kasey Kahne (eighth) and fifth-place Joey Logano (10th). On the flip-side defending Cup champion Brad Keselowski (11th) and Kurt Busch (12th) lost three positions after each team faced a rash of problems at Bristol. Keselowski and Busch finished 30th and 31st, respectively.
4: Drivers outside of the top 10 in the point standings have wins in the first 24 races but only two -- Martin Truex Jr. and Ryan Newman -- are eligible for a wild-card spot in the Chase. Although sidelined, Tony Stewart's car is still eligible through owner points while David Ragan (26th) is outside of the top 20 in the point standings.
34: Cup starts for Danica Patrick after Bristol - more than any woman in NASCAR history. Patrick broke a tie-breaker with Janet Guthrie, who averaged 19.3 over her 33 starts. Patrick's current average finish is 26.6.
SAY WHAT? When Kasey Kahne was asked what options he had to beat Matt Kenseth in the closing laps at Bristol on Saturday night, he was offered a suggestion from third-place finisher Juan Pablo Montoya:
"Well, the only options...," Kahne began.
"Taking him out," Montoya interjected.
"That's the only option I have...," Kahne replied.