Hamlin brings new energy to title effort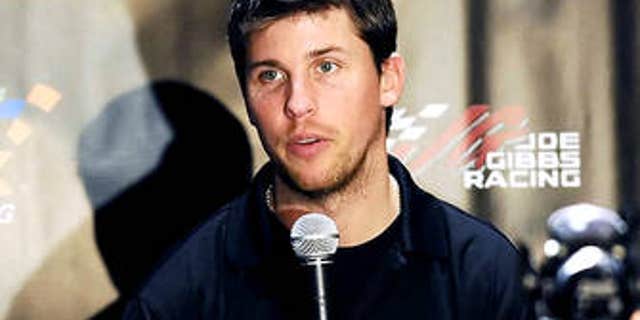 Denny Hamlin expects things to be different this season.
Different crew chief, different results - different feel to the team, different approach that starts with the driver.
Hamlin's endured a rough run since finishing as runner-up for the NASCAR Sprint Cup title in 2010. He ended that season on a high note, although one leading to an offseason spent nursing the wound of a close call and a championship that slipped away in the final race.
But 2011, that was a near disaster for the group. Hamlin and crew chief Mike Ford struggled to get on pace, eased into the Chase for the Sprint Cup and quietly finished ninth in the standings.
Now he enters 2012 with defending championship crew chief Darian Grubb at the helm - Joe Gibbs Racing and Ford parted ways at the end of last season, as did Grubb and Tony Stewart after winning the title - and reenergized for a run at the title. Is this going to be Hamlin's year?
The driver gushes about the impact landing a crew chief of Grubb's caliber can have on the team. It seems to have buoyed Hamlin's confidence that the man who led Stewart to the 2011 title is in-house to help Hamlin attempt to secure his first.
But the difference at JGR goes beyond just having a new face on the pit box, a new voice making the calls for Hamlin. While other changes have been made within the organization, as all teams work to find the perfect mixture between seasons, the impact of this offseason goes deeper.
It goes to the driver himself. Hamlin steps up and puts a lot of the onus for regaining ground on himself.
"I think there's a lot of things that are going to be different," Hamlin said. "I've got to be a little bit more aware of what's going on with my feedback. I think at times I kind of took for granted that Mike just always knew what I needed at certain times even though I might not say it. With (Darian), I've got to make sure I continue to voice those things and tell him the specifics because he's not worked with me before. Working with other drivers, he's got different ideas and stuff that he can bring up to me.
"I think it's going to be key for me the first six months to really communicate a lot with him."
And make no doubt about it, Hamlin plans to pay close attention to his crew chief.
"You've got to listen to a guy that's won five of 10 Chase races in one year," he said.
For his part, Grubb seems to be impressed with his new driver already.
Both speak highly of one another - and believe that working together can make them stronger this season. Just as Hamlin appears excited with the new pairing, Grubb sees much to admire and respect in Hamlin entering the season.
"He's a really good character," Grubb said. "He's a fun guy. He likes to joke with the guys and carry on and that's a big part of it. We want to have Denny included in the team and make sure he's one of the guys that's leading the team. He has to be a leader and make sure all those guys are following him. He's the guy that everybody shows up to work for every morning and as long as he's connected to us we'll be working our hardest for him."
Hamlin has done his part to help bolster that team effort.
Throughout 2011, he was pelted with questions about whether he felt the lingering effects of the close call of 2010. He struggled to compete with the top teams, never showed the form of 2010 and ended the season with one win and 14 top-10 finishes, five of them top fives. Not that it was a bad year, but after winning eight races in 2010, it certainly wasn't what he expected.
So Hamlin decided to take a much-needed break at the close of the 2011 season and left his regular routine, and home base, behind.
"I just had to get away from Charlotte for a little while," he said. "That's all it took. Get away from racing and you know when you have such a bad year like we had last year, you're waiting for the season to be over with. You always kind of get that second breath of life where you're like, 'OK, the Chase is starting so it's a fresh start.' And, then when we come out of the gates and had the issues that we had in the very first race, it's like, 'This year is just not meant to be for us.'
"It doesn't take long before you're starting to count down how many weeks are left in the season to just get it over with. Let's go through the motions, get to the track, do our job and get out of there. And, obviously it's going to be hard to win races with that attitude. Now, we've got a lot of reasons to be optimistic."
His offseason didn't involve elaborate plans or world tours.
Just some time to get away from the routine - to not think about racing for a little while.
"I've been racing since I was 8 years old -- 23 straight years of living and breathing this sport every single day and every single week," Hamlin said. "Our schedule is not driver-friendly with all of the obligations that we have on and off the racetrack, we're doing so much during the week, we just don't have that much time at home.
"For me, I had to get away from Charlotte, get away from the same people that I see all of the time, just to kind of relax and do my own grocery shopping, do my own laundry, cook my own food and just feel like I was on an island by myself. So, I feel like that has all been really good for me personally and it's just gotten me super energized for a new season because I really do feel like I've had a break now."
He's not the only one.
Grubb, too, admits that he's pleased to be part of a group rising to the challenge - and he sees a lot of positives and potential in the group.
"It's really exciting for me just because coming in talking to the guys in the shop you can tell there's just the attitude there that they just felt like they were beat down because they had such a bad year in 2011 and now there's just a breath of fresh air," he said. "They know that I was lucky enough to go out there and win that championship. They all want a piece of that. They know how close they were and everybody just realizes now it's all about just having fun, working in one direction so we're all going out there trying to win races and put ourselves in the Chase with a chance to go for that championship."
Team owner Joe Gibbs says that and other changes within the organization - Joey Logano also has a new Cup crew chief - have sparked excitement for the upcoming season. He says that Grubb and Hamlin sat down together and traded ideas before the crew chief was brought on board and the two seemed to hit it off immediately.
As Hamlin puts it, this new partnership could be just the key to taking the top prize. And to erasing the memory of a 2011 season that simply didn't go the way he had planned. Now, with some distance on the close run for the championship and the team changes, everyone is intent on putting the last season in the past.
"Part of it could have been a carryover from just being so discouraged with missing that thing that it carried over," Gibbs said of what hampered the 2011 effort. "Sometimes you overreact to where you were and you change things that maybe you shouldn't have changed. So I think all of that's wrapped in there, you're not quite sure, it's hard to untangle it. I think certainly it was dramatic at the end of that year ... and this past year, that wasn't the case."
Hamlin, 31, looks to get back to the form that has seen him finish in the top 10 in the points standings five times, make the Chase for the Sprint Cup in each of his six full-time seasons and finish inside the top five three years.
Now, though, as he looks back over the last year, Hamlin finds a way to put a positive spin on even that as he prepares for yet another shot a title season.
"I think the adversity that I've had in my career and the ups and the downs is going to make it sweeter when I finally do win that championship," he said.