Hamhuis set to face Predators in playoffs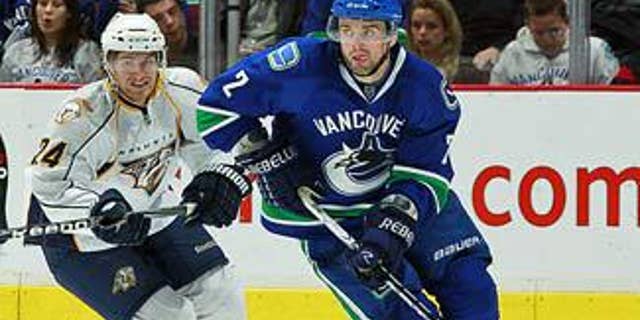 VANCOUVER -- Alain Vigneault has already picked Dan Hamhuis' brain. The Canucks coach interviewed his standout defenseman early Wednesday to get his take on all things Predators.
"I had a long talk with Dan about their players," Vigneault said while smiling, "and he shared a lot of that information with our group."
Hamhuis played six years with the Predators, missing only nine regular season games, but he readily shared information with his current coach. He can't be guilty of insider trading because he plays for the other guys now. He chose that over the summer when he signed a six-year, multi-million dollar contract with the Canucks to move back to his home province of British Columbia.
But, on the eve of his first appearance in the second round of the playoffs, Hamhuis did find it ironic that the opponent coming into his new town was his old team that he never could help lift past the first round.
"It'll be strange," Hamhuis told NHL.com and NHL Network. "I do have some good friends on the team. I know the staff very well and I had some good years there. But, throughout these next couple of weeks I'll put all that on the backburner and wait until the series is over to start talking again."
Hamhuis is comfortable in his new home of Vancouver, but he's thrilled for his old city and team as well. He said Nashville deserves to have a good hockey team because the fanbase is strong, loud and "underrated."
"As we'll see when we get down there they have some great fans," Hamhuis said. "It's going to be a loud building. It's a fanbase that is very excited about their team."
Hamhuis played in two games against his former mates this season, but never at Bridgestone Arena. He was out with separate concussions when the Predators visited Music City, first on Feb. 17 and next on March 29.
The first time he went back the Predators played a video tribute to him on the scoreboard that offered some highlights from his six-year career there. Odds are he won't be getting the red carpet treatment when he gets there next week for Games 3 and 4, but that, of course, is part of the business and it won't change the way Hamhuis feels about his old team and city.
He learned to appreciate country music while living there. He liked the lifestyle that allowed him to go out for dinner and be just another patron, not the famous hockey player walking into the restaurant.
"We really enjoyed living in Nashville," he said. "We were there for six or seven years. It's not a real hustle bustle city, it's a little bit smaller and it probably made for a good transition for me coming from a small town (Smithers, B.C.) not to be overwhelmed by a big city. We started a family there and really enjoyed our time.
"I have nothing but great things to say about the town and the organization."
If anybody in the Canucks' dressing room is wondering about the kind of heart, grit and work ethic the Predators play with on a nightly basis, all they need to do is go have a chat with their No. 2.
"On paper it may not look like they have as good of a team as others, but they're a very good team and we don't want that to surprise us or fool us," Hamhuis said. "They had 99 points during the regular season and they're in the second round for a reason. They're going to be a very tough opponent."
Tough yes, but also perhaps the most familiar Hamhuis has faced in his NHL career.
The Canucks definitely have that going for them.
"Sure it's emotional," Hamhuis admitted. "It's exciting. There are a lot of good friends over there, but the series starts (Thursday) and I'll certainly put that all that on the backburner."
Follow Dan Rosen on Twitter: @drosennhl