Hall of Famer Dick LeBeau plans on returning as Steelers' defensive coordinator next season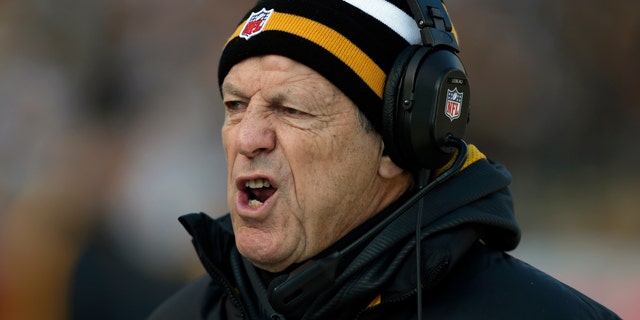 NEWYou can now listen to Fox News articles!
PITTSBURGH – Armed with a promise from his beloved defensive coordinator that he wouldn't retire without first informing his players, Ryan Clark threatened to avoid Dick LeBeau.
"I didn't want to hear it, so I've told him, 'If you try to leave, well, you didn't see me and tell me, so you can't,'" said Clark, the Steelers' free safety. "'That would make you not to be a man of your word, and I know you as such.'"
Clark needn't worry. The 75-year-old LeBeau has every intention of returning in 2013 for what would be a 55th consecutive season in the NFL.
LeBeau opened his first meeting of the week with his defense by telling players he'll come back for a 10th season as Pittsburgh's defensive coordinator.
LeBeau, a Hall of Famer, publicly will only say his status is in the hands of head coach Mike Tomlin. But with the defense ranked No. 1 in the NFL for the second consecutive season and fifth time in nine years, there's little reason to think Tomlin would make a change.
"Let's just say I really like Pittsburgh and I really like working for the Steelers," LeBeau said after practice Thursday. "Coach Tomlin will tell you if he wants me back or not. It will be up to Mike."
Asked as a follow-up if he would come back if asked, LeBeau smiled and said, "I love Pittsburgh."
The city has come to love LeBeau, too, after he orchestrated a defense that has ranked in the top five of the league in 10 of his 11 seasons as defensive coordinator. LeBeau also held the job in 1995-96 under former head coach Bill Cowher.
Not even the famed Steel Curtain defenses of the 1970's — statistically, at least — can match what LeBeau's units have accomplished. Only two Steelers teams during their run of four Super Bowl titles in six years under Chuck Noll were No. 1 in total defense.
Since LeBeau returned for his second stint with the franchise in 2004, the Steelers have been to three Super Bowls — winning two — and have had the No. 1 defense five times.
"We know he's the best in the game," veteran linebacker Larry Foote said. "I think everybody else around the league knows it. A lot of times in the games it turns into a chess match, and he wins his share."
Known as the architect of the so-called "zone blitz," LeBeau's teams have been known for the confusion they cause and for their pressure on opposing quarterbacks. His record against rookie starting quarterbacks over the past nine years is 14-2.
His resume after more than a half-century in the league earns the respect of players — but it's his calm and fatherly demeanor that endears those who play for LeBeau to him.
They openly campaigned for LeBeau to get into the Hall of Fame for his 14-year career with the Detroit Lions that included 62 interceptions. LeBeau wept when, on New Year's Day 2006, his players en masse showed up for a game against Detroit wearing his throwback No. 44 Lions jersey.
"One of the joys of coming to work as a Pittsburgh Steeler free safety is getting to see Coach Lebeau every year," Clark said.
LeBeau, who was head coach of the Cincinnati Bengals from 2000-02, doesn't look like a man who will be 76 when next season opens.
"He's like a grandfather — but I don't want to say grandfather because he doesn't really act like a typical grandfather," Foote said. "He's a man of a lot of jokes and wisdom and he encourages everybody.
"He can get around, especially when all his buddies come in. He's always screaming, always running around, doing push-ups."
Keenly aware of where his defense ranks, LeBeau could have gone out with a team that has a chance of finishing the season No. 1 in the NFL in total defense, passing defense and rushing defense. Heading into the season finale Sunday against Cleveland (5-10), the Steelers are No. 2 in rushing defense and No. 1 in the other two categories.
But those stout numbers haven't translated into enough victories this season, with Pittsburgh (7-8) set to miss the playoffs for only the third time in LeBeau's 14 seasons on the staff. He was Cowher's defensive backfield coach from 1992-94.
Despite the gaudy overall rankings this season, LeBeau's Steelers weren't the "closers" they were in the past. Four times, Pittsburgh blew a fourth-quarter lead. The Steelers also uncharacteristically finished in the bottom half of the NFL in sacks and turnovers forced.
"The truth of the matter is we didn't get off to a really good start on defense this year," LeBeau said. "I don't think it was ever quite as bad as it was perceived to be, but we weren't playing the way we wanted to play. For, I'd say over a month and a half now, our third down numbers have been good. We got a little behind early in all phases, but these guys stayed together and played pretty doggone good defense and got us back to where we like to be, up near the top of the bunch."
As usual, LeBeau credits the players for the defense's success. That's just one reason why they share such adulation for him.
"He sets the tone," Foote said. "He's the reason. He always brings us guys together. He puts us in the right situation to make plays."
Notes: TE Heath Miller was named team MVP after a vote by the players. Miller, who has a team-high 71 receptions and is tied for the team lead with eight touchdowns, had surgery Thursday to repair multiple torn ligaments in his right knee. He is the first tight end to win the award. ... RT Mike Adams was named team rookie of the year and NT Casey Hampton was given the "Chief Award" for cooperation with the media.
___
Online: http://pro32.ap.org/poll and http://twitter.com/AP_NFL