Hall elections a chance to recall A's, White Sox stints by Piazza, Griffey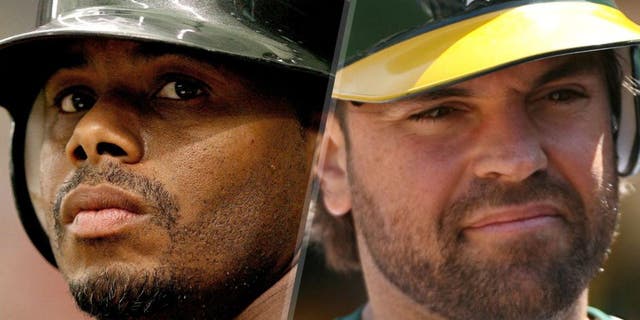 On Wednesday, Mike Piazza and Ken Griffey, Jr. were both elected into the Baseball Hall of Fame. Generally speaking, most baseball fans would probably associate Griffey with the Seattle Mariners and Cincinnati Reds, while Piazza accomplished most of his feats with the Los Angeles Dodgers and New York Mets. And yet - both players donned other uniforms over the course of their respective careers, and Wednesday provided a bit of an opportunity for a reminder of that.
In May 1998, Piazza was dealt by the Dodgers to the then-Florida Marlins with Todd Zeile in a trade that sent Bobby Bonilla, Manuel Barrios, Gary Sheffield and Charles Johnson to Southern California. Just eight days later, though, the Marlins traded Piazza to the New York Mets for a package of young players. Piazza's tenure in Miami was about as short-lived as could be, and he only appeared in five games there before staying with the Mets through 2005 (with whom he appeared in six All-Star Games).
After one season with the San Diego Padres in 2006, though, Piazza capped off his 16-year MLB career with a swan song with the Oakland Athletics - something some baseball fans probably don't remember. In fact, the A's sent out a tweet and Facebook post congratulating Piazza for his Hall election and some fans posted comments indicating they had forgotten about his one season there:
Piazza only appeared in 83 games during the 2007 season as injuries had taken their toll on his body, hitting .275/.313/.414 with eight home runs and 44 RBI on the year. In a sense, his acquisition was an attempt by the A's to replicate what they received from Frank Thomas in 2006 (he had one of his best seasons, finishing fourth in MVP voting and helping to lead the A's to the ALCS).
Piazza's tenure with the A's was largely uneventful, in part due to the team's mediocrity under manager Bob Geren, but there was an awkward encounter between Piazza and a Los Angeles Angels fan at Angel Stadium:
Griffey, meanwhile, finished his stellar career with a two-year reunion stint with the Seattle Mariners in 2009 and 2010 - but this came after a 41-game cameo with the Chicago White Sox in 2008 (for which he received a congratulatory social media post on Wednesday):
He didn't do much in Chicago after coming over in a July 31 trade with the Reds, hitting .260/.347/.405 with 3 home runs and 18 RBI in 41 games, but he did make a stellar throw to nail Michael Cuddyer of the Minnesota Twins at the plate during the AL Central tiebreaker game:
All this to say: Piazza and Griffey are perhaps best known for their contributions to two teams (the Dodgers and Mets for Piazza and the Mariners and Reds for Griffey), but both also lent their talents to other clubs as well during the twilight of their respective careers.