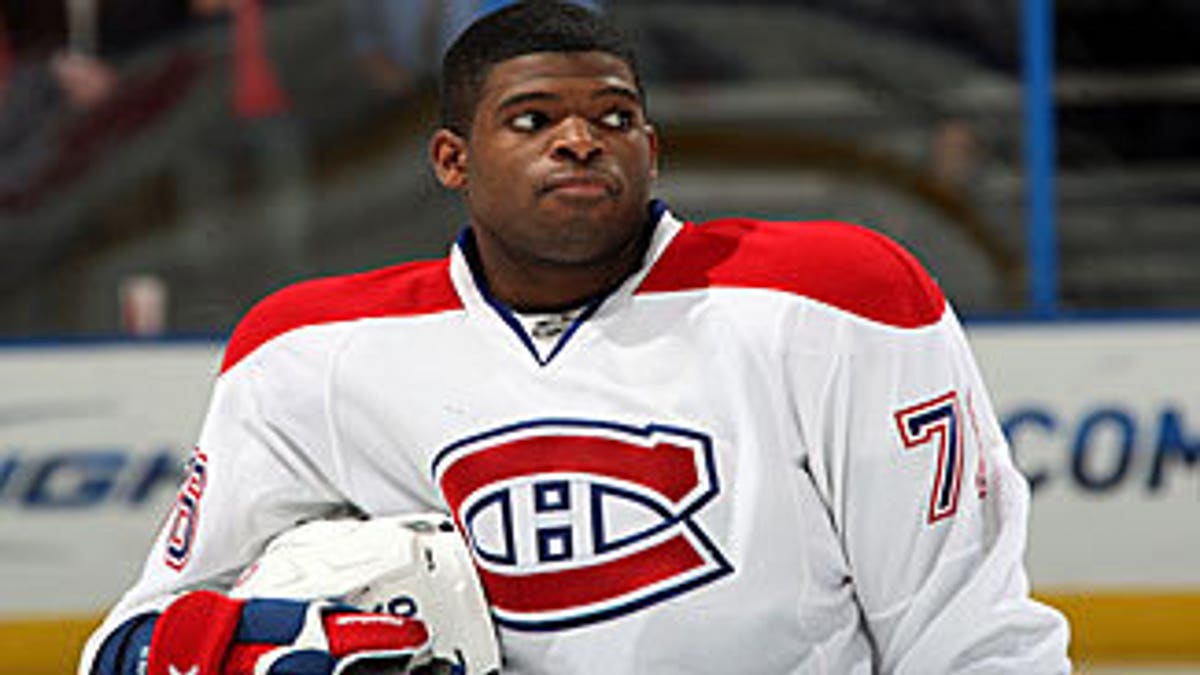 MONTREAL -- The Montreal Canadiens are looking to avoid becoming a very dubious part of the franchise's storied history when they face the Atlanta Thrashers Tuesday night.
The Canadiens come in with three straight shutout losses -- the first time that has ever happened in the 101-year history of the team.
But the last time the Canadiens were shut out in four straight games -- one was a scoreless tie -- dates back to Feb 14-26, 1928, when the NHL's all-time winningest franchise only had two Stanley Cup championships to its credit.
One would think the pressure to score a goal would be foremost in the minds of the Canadiens players, but it is in fact getting a win and putting an end to the current three-game losing streak that was the priority the players were talking about.
Of course, in order to do that a goal would need to be scored, even if it were to come in a shootout.
"It's just one of those stretches of games where you're not really getting the bounces, but to create bounces you have to work hard," defenseman and power-play quarterback James Wisniewski said. "So we have to up our intensity, battle a little bit harder and get some of those ugly goals."
Tuesday's morning skate was a bit more intense than usual, with coach Jacques Martin putting his players through a long stretch of end-to-end line rushes.
He also unfurled a new power play wrinkle as center Tomas Plekanec was taken off the point and put back in his usual spot on the half boards with Mike Cammalleri and Andrei Kostitsyn. That left a spot for Paul Mara to make his debut on the point on the power play against the Thrashers.
The Montreal power play is 0-for-10 over the three-game drought, and Wisniewski is cognizant of the fact this is a key area of the game that could take the pressure of the streak off the entire team.
"We're just going to get back to square one and start shooting pucks," Wisniewski said. "Right now that's kind of what we need to do. Usually when you try to do too much, things don't usually go your way, pucks will start bouncing and you'll pass up some good opportunities. When you start doing things the right way again, then the pretty backdoor plays will open up again when you're not trying to force them."
Another loss by the Canadiens would make what looked to be a sure-fire playoff berth somewhat questionable.
Montreal enters the game seven points ahead of the ninth-place Carolina Hurricanes in the standings, with Carolina holding a game in hand. Should Montreal lose in regulation to Atlanta and Carolina win in Washington, that gap will be closed to five points with the two teams slated to play in Raleigh on Wednesday night.
"These games are really important to keep our playoff hopes alive, the rest of the games we have to keep rolling on all cylinders," Wisniewski said. "Our fate's in our own hands right now. We don't have to worry about any of the other teams trying to beat each other for us to stick in the playoffs. We just have to win and we'll stay in a playoff spot. We just have to shake these last three games off and hopefully when we get one the floodgates will open."
The Thrashers, meanwhile, are aware of what they are walking into against a team that was booed off its own home ice after losing 2-0 to Washington on Saturday.
"There's nothing worse than a home crowd booing you," said Thrashers right wing Blake Wheeler, who's seen this building as charged up as ever from his days with the Boston Bruins. "These guys have a lot of pride, they're a great team, so they're going to come out and bring their 'A' game tonight. If we're not ready right from the drop of the puck, (the fans) are going to have a lot to cheer about."
One guy on the Thrashers who's hoping to quiet the crowd is Ben Maxwell, who was traded away by the Canadiens in the deal that brought defenseman Brent Sopel and forward Nigel Dawes to the Montreal organization.
Maxwell scored his first NHL goal and added an assist for his first career points in Atlanta's last game, a 5-4 shootout win against the Ottawa Senators.
"I've got nothing bad to say about the Montreal Canadiens, they treat us with a lot of class and there's good people in that organization," he said. "There's tons of friends I made while I was here, and it'll just make it that much better to go out there and try to beat them."
The Thrashers starting goaltender will be Ondrej Pavelec, who has a 3-0-1 record with a 1.93 goals-against average and .946 save percentage lifetime against the Canadiens. He will face Carey Price, who has allowed just three goals in his last two starts at the Bell Centre,, but lost both of them.