Habs return home in unfamiliar territory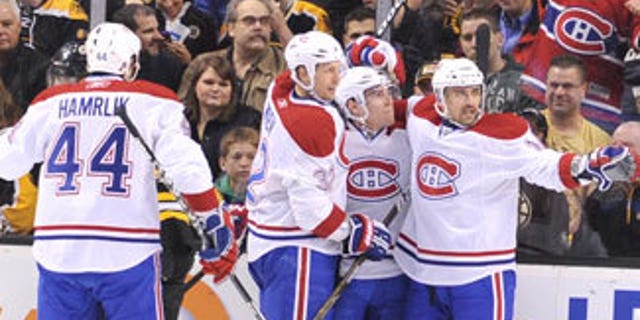 NEWYou can now listen to Fox News articles!
BROSSARD, Que. -- While the majority of the current group of Montreal Canadiens players experienced the relative success of reaching the Eastern Conference Finals last year, they were never in the position they find themselves in now.
Last year's team appeared to thrive in situations that called for desperation, winning five straight games where they were on the brink of elimination against the Washington Capitals and Pittsburgh Penguins.
But now, leading the Boston Bruins 2-0 in their Eastern Conference Quarterfinal series and heading back to the friendly confines of the Bell Centre – where the Canadiens have beaten Boston four straight times dating back to Feb. 7, 2010 – that desperation level for Montreal will have to come internally.
Because the Bruins are clearly the desperate team.
"Yeah, I think we do have that desperation," Bruins forward Rich Peverley said Sunday in Boston. "It's one of the biggest games coming up and that's just how it is in the playoffs -- the next game is bigger than the one before. We have to make sure we're prepared mentally and physically to compete hard out there."
Monday night's Game 3 will show how well the Canadiens will be able to manufacture a sense of urgency that won't necessarily be there on its own.
"You can do it, it just has to be there," captain Brian Gionta said after the team held a noon meeting Sunday. "It's one of the biggest games coming up and that's just how it is in the playoffs, the next game is bigger than the one before. We have to make sure we're prepared mentally and physically to compete hard out there."
While it's true the Canadiens were often playing catch-up in last season's playoffs, this is another instance where the overall playoff experience on this team serves it well because the five Stanley Cup winners on the roster have all seen a situation like this before.
"It's a desperate situation for us, too," said defenseman Brent Sopel, a member of last year's Cup-winning Chicago Blackhawks. "Obviously we're up two, but it's back to square one for us. Every game gets harder, every battle gets harder. When you get an opportunity like this to keep going, you have to get it done."
Playing at home has been a clear advantage for the Canadiens all season long, as their 24-11-6 record at the Bell Centre attests. But coach Jacques Martin feels that in the current situation, with the city buzzing over the improbable reality of leading the Bruins 2-0, it may actually be more of a hindrance to his team's concentration.
"It's definitely a challenge," Martin said. "There are more distractions here than there are on the road."
The Canadiens playoff formula for success is now clearly documented, but it is highly dependent on playing with a lead.
They can't sit back and focus all their energy on insulating goaltender Carey Price if they need to climb back from a deficit, except the Canadiens have only played a grand total of 3:27 in the whole series where they weren't leading, and they haven't trailed for even one second.
"Whenever you're playing with a lead you're able to stay patient within your game plan, you don't have to deviate too much from it," Gionta said. "You're able to, not sit back, but sit within your system and not extend yourself. That's when you get in trouble, when you're taking risks to try and get back in the game and try to make something happen. When you play with a lead you don't have to do that."
Aside from the sheer lunacy that will surely come from the 21,273 Bell Centre fans and the Bruins need to take them out of the game, this strategic crutch for the Canadiens is going to make the first goal in Game 3 that much more important than it already is.
The Bruins will surely be focused on making sure that goal goes up under their name on the scoreboard, and the Canadiens know they have to be ready for a quick start to the game from the visitors.
"We know they're going to come hard and we have to be prepared for that and do the things we did in the first two games," said Canadiens defenseman Roman Hamrlik. "It's all about desperation, and in the first two games we showed our desperation was a little bit higher than theirs. That was the huge difference in the game."
Whether or not the Canadiens can artificially manufacture that same level of desperation will surely be a huge difference in Game 3.