Gus Bradley pleased with Blake Bortles' effort in loss to Giants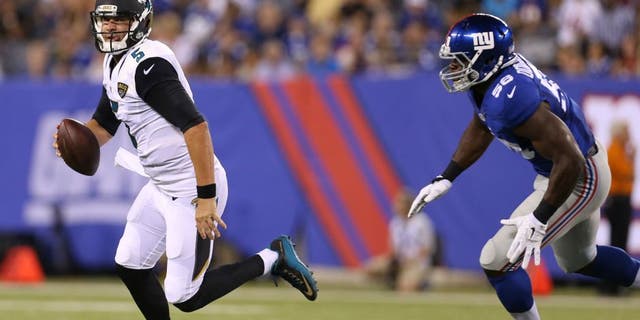 Jacksonville Jaguars quarterback Blake Bortles followed up a strong performance in the team's Aug. 14 preseason opener against the Pittsburgh Steelers with another solid effort Saturday night in a 22-12 loss to the New York Giants.
Bortles, in his second season as Jacksonville's quarterback, completed 8-of-16 passes for 98 yards, to lead the team on three scoring drives, each resulting in a field goal. While the numbers were relatively modest, head coach Gus Bradley said he was pleased with the young quarterback's effort.
"I think he took another good step," Bradley said, per the team's official website. "To go on the road and to stack up another good performance, he's learning. ... What I'm pleased about is he's seeing some benefits of playing some pretty consistent quarterback. We just need to add to it."
The 23-year-old Bortles, the third overall pick in the 2014 draft, said he was generally satisfied with the offensive execution against the Giants, but noted the team needs to work on finishing drives.
"We did a good job," Bortles said. "We put two or three drives together. It's important to get six in the red zone instead of three. We shot out ourselves in the foot a couple of times with a penalty and missed opportunities, but overall I think the guys did good."
Bortles completed 11-of-15 passes for 118 yards in a 23-21 win over Pittsburgh last week. He'll look to continue building momentum in Jacksonville's exhibition against the Detroit Lions Friday evening.
(h/t Jacksonville Jaguars)