Gus Bradley mum on potential coaching changes for Jaguars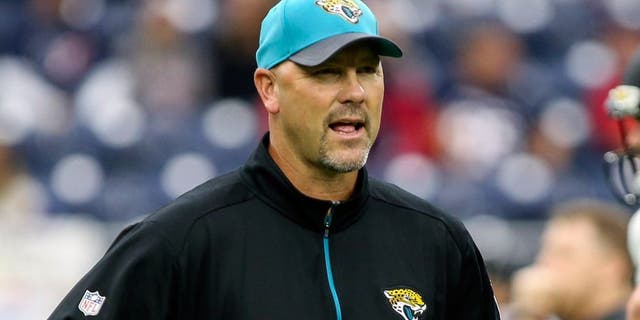 NEWYou can now listen to Fox News articles!
Jacksonville Jaguars head coach Gus Bradley said he plans to take an active role in fixing his team's struggling defense, but declined to offer any clues Monday as to whether changes will made to his coaching staff.
The Jaguars finished with NFL's 24th-ranked defense in yards allowed, allowing 375 per game and were 31st in the league in points, giving up 448. Bradley said he had yet to have a season-ending meeting with his staff after Sunday's 30-6 loss to the Houston Texans and declined to elaborate on what the future holds for defensive coordinator Bob Babich and the rest of the defensive coaches.
"Until I get a chance to (meet with the coaching staff), I won't be able to provide any insight into what's taking place," Bradley said, via the team's official website, "As coaches, we have to dig deep. Our central theme is compete. That's what we need to do this offseason. We have a lot of areas we can build on and some weaknesses we have to get straightened out. That's what we'll devote all of our attention to."
Bradley said he needed time to gather more information before making any potential moves.
"I want to get the truth, is what I want," Bradley said. "You say, 'Gus, well you had all season.' I think a lot of truths I know, but one of the things in my conversations with (General Manager) Dave (Caldwell) and (Owner) Shad Khan is to do due diligence and to get all of the information and to have a strong sense. Until I do that, I'll respect that."
Bradley, who is 12-36 in three seasons as Jacksonville's head coach, didn't rule out the possibility he would call the defensive plays next season, but said at the very least, he plans to be more involved in player evaluation during the offseason.
"The obligation is to do what's best for the organization," Bradley said. "I really want to gather all of the information, see what's best and go from there."