Gurley, Mason full practice participants, CB Johnson limited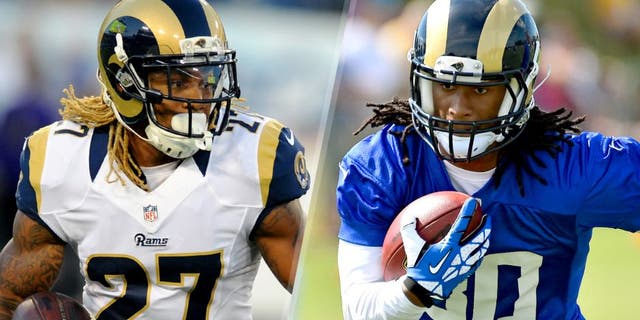 ST. LOUIS -- St. Louis Rams running backs Tre Mason and Todd Gurley were full practice participants Wednesday, strengthening the position heading into Sunday's game at Washington.
"It was good to get Todd work with the offense and Tre had a full practice, so it was good to see them both in there," coach Jeff Fisher said.
Cornerback Trumaine Johnson was limited coming off a concussion in the opening victory over Seattle, but Fisher was optimistic he'd be ready. Johnson has one more concussion-related test to pass.
"Typically when you're cleared to practice things look pretty good," Fisher said.
Mason missed the opener and the final preseason game with a hamstring injury. The Rams anticipated he'd open this year as the starter until Gurley was ready coming off knee surgery.
"Right now I feel good and I'm ready to roll," Mason said.
Gurley got more reps with the first team.
Benny Cunningham started the opener and had 45 yards rushing and 77 yards receiving. The Rams had 76 yards rushing with a 2.9-yard average, but against one of the NFL's top defenses.
Johnson was injured making the tackle on a short reception by Chris Matthews in the second quarter. He stayed in the game two more plays before taking a knee and informing trainers he had a concussion. Johnson, who has had two concussions with the Rams, said he's feeling much better.
"After that play, I didn't remember anything," Johnson said. "The next thing I remember is they were taking my shoulder pads off in the locker room."
Johnson had an interception earlier in the game.