Gronk dons Bruins jersey, talks hockey days: 'I was super aggressive'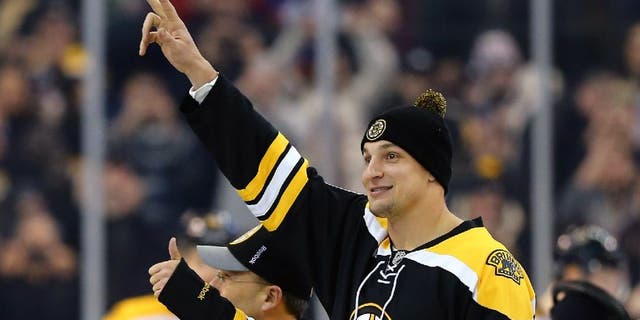 Rob Gronkowski grew up in Buffalo, N.Y., where hockey is played by just about anyone and everyone. And while Gronk was a basketball and football players back in the day, he also knows how to handle a hockey stick.
Gronkowski shared his love for hockey on Thursday when he stopped by the Boston Bruins' practice at Gillette Stadium ahead of Friday's NHL Winter Classic. And yes, he put on a Bruins jersey.
"I was super aggressive," Gronkowski said via NESN.com. "Fights, goal scores, checks."
While it was fairly long ago that Gronkowski played hockey, he said he still hits the ice every now and then.
"I'm alright now whenever I go back and play with my friends back home," he said. "I used to play with all the top dogs growing up in Buffalo. But I don't got those skills, really."
He's a do-it-all kind of athlete that can probably excel at any sport he takes up. Skating isn't as easy as running, but not many players would approach Gronk on skates looking for a fight. It's hard to imagine him being taller than he already is.