Gregg Popovich accuses Zaza Pachulia of 'totally unnatural closeout' on Kawhi Leonard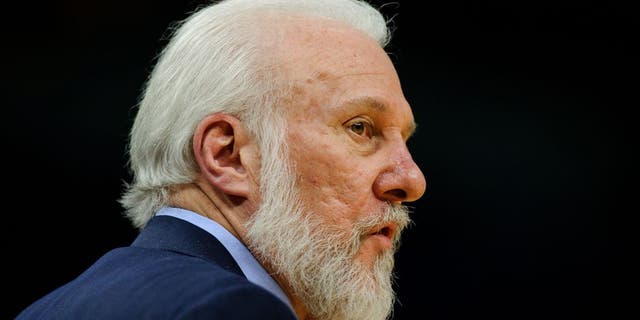 San Antonio Spurs head coach Gregg Popovich didnt hold back on his feelings regarding Zaza Pachulias closeout on Kawhi Leonard on Sunday that resulted in Leonard reinjuring his left ankle, an injury that has left his status in doubt for Game 2 on Tuesday.
Popovich listed a number of questionable incidents involving the Warriors center and said the play in the Spurs Game 1 loss was a totally unnatural closeout on Leonard, who underwent an MRI on Monday.
The play where he took Kawhi down and locked his arm in Dallas he could have broken his arm, Popovich said of Pachulia on Monday. Ask David West, his current teammate, how things went when Zaza was playing with Dallas and he and David got into it. Then think about the history hes had and what that means to a team what happened last night.
A totally unnatural closeout that the league has outlawed years ago and pays great attention to it. And Kawhis not there. And you want to know how we feel about it. You want to know if that lessens our chances or not.
Popovich wasnt done taking aim at Pachulia, further questioning the 33-year-olds intent on the play.
Because hes got this history, [people say] It was inadvertent. He didnt have intent. Who gives a damn about what his intent was, Popovich said. You ever hear of manslaughter of manslaughter? You still go to jail I think when youre a Texan and you end up killing somebody, but you might not have intended to do that. All I care is what I saw, all I care about is what happened. The history there exacerbates the situation and makes me very, very angry.
The Spurs held a 23-point lead in Sundays Game 1 before the third-quarter sequence in which Leonard, who underwent an MRI on Monday and reportedly didn't suffer structural damage, attempted a corner jumper and came down awkwardly. Pachulia closed out to affect Leonards shot, but his foot went under Leonards leg, resulting in San Antonio's best playertwisting his ankle.
The Warriors immediately went on an 18-0 run and hung on to a 113-111 win to take a 1-0 series lead. Leonard initially tweaked the ankle, which forced him to miss Game 6 of the Spurs' semifinal series against the Rockets, earlier in the game when he stepped on a teammate's foot near the Spurs' bench.
Leonard finished with 26 points and eight rebounds in 24 minutes. San Antonio was a plus-21 with the two-time Defensive Player of the Year on the floor but slowly gave up the cushion to the Warriors, who led the league in scoring in the regular season.
After the game, Leonard did not question Pachulia's intention on the play.
Did he step under it? Like, on purpose? No. He was contesting the shot. The shot clock was coming down. Ill have to see the play, Leonard said.
Pachulia said he has a lot of respect for Popovich despite his comments and tried to explain the incident.
"I did whatever I had to do," Pachulia said Monday. "That was the right defense for my side, to challenge the shot. I wish he hadn't landed on my foot.
"Honestly, I had no idea he landed on my foot until I turned back and he was already on the ground. As soon as he released the ball I turned around and tried to chase the rebound and see where the ball was going, and apparently he landed on my foot while I was already turned.
"I really feel bad for the guy. I wish it didn't happen, that it was a different result … I have a lot of respect for Kawhi. I think he is one of the best players. I wish him all the best."