Gregerson expects to be Astros' closer despite team acquiring Giles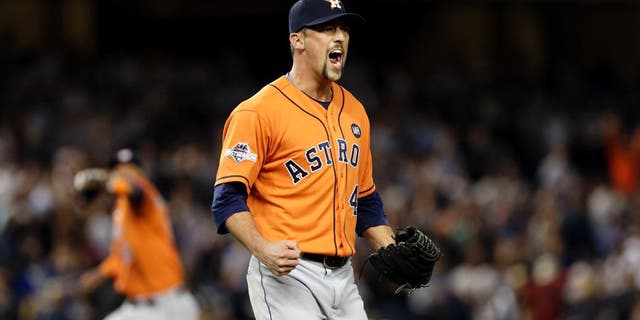 The Houston Astros acquired hard-throwing right-hander Ken Giles from the Philadelphia Phillies during the offseason, assumedly to be the team's new closer.
The Astros closer from 2015's surprise season, Luke Gregerson, however, isn't ready to give up his exclusive role with the team.
"I don't see any reason things should change," Gregerson told MLB.com. "Obviously, bringing the guy we brought in, he's got a strong power arm and showing he can get guys out at the Major League level, and he's going to be a great addition to our bullpen no matter where we all fit in."
Giles was traded to the Astros from the Phillies for four players in December, spending the season as Philadelphia's closer, he had a 1.80 ERA with 15 saves in 20 opportunities. Gregerson converted 31 of 36 save chances in his first season with the Astros with a 3.10 ERA. Of the two Giles could be preferred to due his hard-throwing skill set with his four-seam fastball averaging in the high 90's.
"We all know the situation and who we brought in," Gregerson said. "The guy's got great stuff and a strong arm. No matter where we fall in the bullpen, we've just gotten better and that's it."
Despite the raw talent Giles brings to the table as a potential closer for the Astros, Gregerson expects he will be the closer in Houston in 2016.
"I don't see any reason why I should lose my job because of it," he said. "I was pretty happy with how things went last year. I think it could have went even better, just a few outings here and there [were rough]. We'll just move forward and see where it takes us."