Green Bay Packers QB Aaron Rodgers' camp reps won't be limited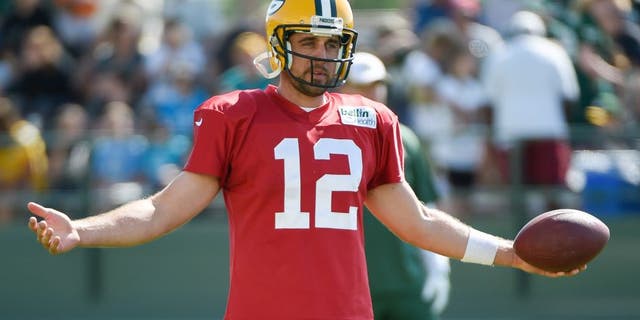 Green Bay Packers quarterback Aaron Rodgers won't be on any sort of a pitch count this summer, although head coach Mike McCarthy vows to keep a close eye on his arm.
"It's a conversation. There's a point every year where the throwing might get a little too much and then we back off," McCarthy said, via Jason Wilde of ESPN Wisconsin. "You always have to push to that point. The most important thing, he knows [that point] better than anybody.
"We're not counting throws all the time and it's not a concern as it will be when he's later in his career. He's still very physically fit and so I don't feel like I need to protect him because of any type of elbow or shoulder issue, thing like that. But we just work through it, communicate and see where he's at every day."
Timing is a big part of the Packers' passing offense, and Rodgers has 21 training camp practices to get that down with his various receivers. He's 31 years old and still remarkably athletic, so he's unlikely to sacrifice valuable reps if he doesn't have to.
McCarthy said cultivating a chemistry between the quarterback and his receivers is "goal No. 1," according to ESPN Wisconsin.
If Rodgers does need to rest his arm at some point during camp, the Packers have Scott Tolzien, Matt Blanchard and fifth-round rookie Brett Hundley backing him up.
(h/t ESPN Wisconsin)