Great call: Umps untangle confusion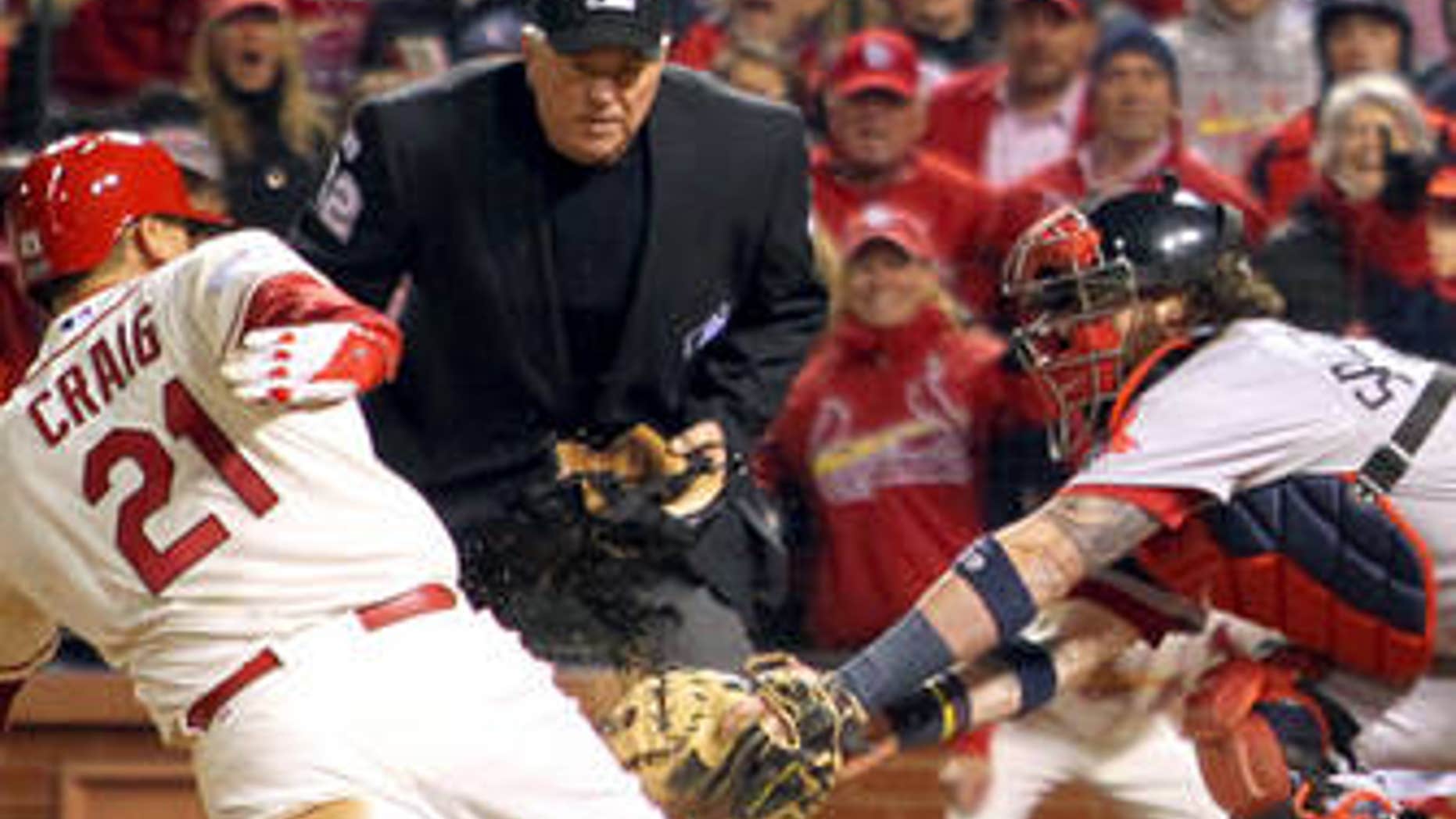 ST. LOUIS – The St. Louis Cardinals lead the Boston Red Sox, two games to one. But make no mistake: The umpires are winning the World Series.
They've been so good - at least in the big, controversial moments - that I'm getting a little misty-eyed at the notion that expanded instant replay will wipe away more of their subjectivity starting next year. The umpires reversed a blown call at second base in Game 1 without the benefit of a TV monitor. And they got it right Saturday at Busch Stadium, on the sort of play we may never again see in the World Series - let alone to end a game and account for the margin of victory, as it did in the Cardinals' 5-4 win.
Your browser does not support iframes.
By now, you've undoubtedly studied the angles as many times as I have: In the frenetic ninth inning of Game 3, Red Sox catcher Jarrod Saltalamacchia tagged out Yadier Molina at home and tried to cut down the gimpy Allen Craig at third base for an unconventional, inning-ending 4-2-5 double play. But the throw was wide. Third baseman Will Middlebrooks lunged for it and missed. The sliding Craig and diving Middlebrooks became entangled. When Craig rose, he tripped over Middlebrooks.
At that moment, two men in uniform did precisely the right thing:
Jim Joyce, the umpire at third base, signaled obstruction.
Craig got up and ran home - on the sprained left foot that until recently had kept him out of game action for 48 days.
Craig didn't beat the throw of left fielder Daniel Nava, who was (somewhat understandably) late backing up the bizarre play. But Craig made the play close. That was the key.
See, the mere fact that Joyce signaled obstruction didn't entitle Craig to being called safe at home. Craig had to arrive at the plate fast enough for Dana DeMuth, the home plate umpire, to conclude that Craig would have been able to score if the obstruction hadn't occurred.
And that's what happened: Craig was out by a few feet. DeMuth, after seeing the signal from Joyce, called Craig safe. That's how the rule works. The umpires enforced it impeccably.
At least in the Red Sox clubhouse, one of the major discussion topics related to the fact that Craig wasn't running directly along the baseline from third to home. Middlebrooks made the point on numerous occasions during his postgame remarks. He was right: Replays showed that Craig was a foot or two inside the line when he tripped over Middlebrooks.
"I couldn't have done anything differently," Middlebrooks said. "I'm not in the baseline."
"I don't know how he gets out of the way when he's lying on the round," Boston manager John Farrell said.
Turns out, that doesn't matter.
On this type of play, runners are allowed to establish their own baseline. Craig was entitled to the path from the spot where he slid toward home plate, even if that course included a chunk of fair territory.
"He was still in the area where the baserunner needs to go to advance to home plate, and the baserunner has every right to go unobstructed to home plate," Joyce told reporters. "Unfortunately for Middlebrooks, he was right there. And there was contact, so he could not advance to home plate naturally."
Unfortunately for Middlebrooks. That's probably the best way to summarize this.
If Craig, who was on second when the play began, had taken off for third right away - as he probably should have - he would have arrived quickly enough that Saltalamacchia wouldn't have considered making a throw.
If Saltalamacchia had done the prudent thing and not thrown the ball, Koji Uehara would have faced Pete Kozma - who doesn't have a hit in this series - with two out.
Or if Middlebrooks had come off the bag far enough to catch the ball - or at least knock it down - Craig wouldn't have had the wild idea to go full throttle on a bad wheel, in a manner that has rendered him questionable for Game 4.
If any of those things had happened, we wouldn't be talking about obstruction - and perhaps not even a St. Louis victory. But the ifs are part of each indelible/damning postseason moment, from Bill Buckner in 1986 to Nelson Cruz at this very same ballpark in 2011.
On a night for the ages, we know only two things for certain: The Cardinals earned a walk-off victory in an almost inconceivable fashion, and six men in black coats - the people who don't want to be noticed - shined brightest of all.
The original article can be found at FOXSports.com: Great call: Umps untangle confusion.