Gordon values experience age has given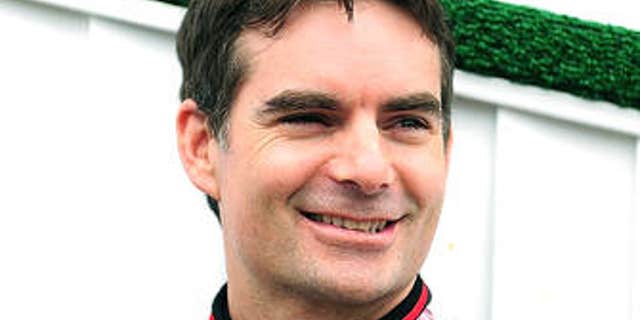 Numerically speaking, Jeff Gordon is over the hill.
But listen to the four-time NASCAR Cup champion and you realize he still feels like he is in his 20s -- well, at least he feels the same passion to go out and battle to win races and championships.
The veteran racer has accomplished much in his Hall of Fame-caliber 20 years in the sport. But success hasn't come as quickly as it used to in those early years, when he was dubbed "Wonder Boy."
Now, with Gordon at 40, there have to be questions about how much is left in the tank of the four-time champ, particularly given his accomplishments: 85 wins (third most all time), four Cup championships and more than $122 million in earnings.
But guess what? The glint in his eyes as he discusses the upcoming season shows he's ready to "put up" and keep fighting for glory rather than "shut up" and let Father Time dictate his career.
"(Turning 40) really tests your passion, your desire and abilities and makes you work a lot harder from a physical-fitness standpoint and keeping up with the engineering and all aspects of the competition, and so I'm probably more driven today and excited about it than I've ever been," Gordon said. "I think along the way, I've taken things for granted and had a certain arrogance about me because early on things came pretty fast and pretty easy, and that's not the case anymore.
"I really love where I'm at right now, and I'm glad I'm still racing."
There was a time earlier in his career that racing into his 40s -- and beyond -- seemed unlikely. Back problems in 2009 had him openly discussing whether he could physically keep it up.
But then there's the thrill of winning -- and that helps keep him driven, regardless of age.
"It's all about checkered flags," Gordon said, recalling the start of his racing passion. "When you see that first checkered flag waving like I did when I was 5-1/2 to 6 years old . . . from that first moment I did that, there was nothing cooler than that and nothing more inspiring and motivating than to want to do that again. . . .
"I worked so hard to get there, and I didn't know if I had what it took. To experience that was the most amazing experience, next to having kids. Now that's what I search for every year, every weekend, is getting to that next checkered flag. Until I win 90 percent of the races, that's going to be the thing that motivates me."
Two recent factors have Gordon feeling as though he can get back to winning on a regular basis and contend for another championship, as he did when he was younger.
The addition of crew chief Alan Gustafson to his squad last year rejuvenated Gordon. After a winless 2010, the duo got three wins and finished eighth in the championship.
The guy who finished first last season is the other motivating factor for Gordon: Tony Stewart, another member of the 40-and-up club.
"I'm a believer in momentum, but I'm not a believer in momentum from when you weren't able to win a race to all of a sudden you win five of the 10 final races and go win the championship," Gordon said about Stewart. "There's more to it than just momentum. They came on a combination that worked very well for Tony's driving style. It's something you have to learn from -- how hard you have to work and never give up.
"The combination of (Stewart) winning the championship, us learning all the time, going through some of the struggles we went through in the Chase, sometimes makes you hungrier to learn and step outside the box. . . . (It) has given us really good direction for us going into the offseason with things to do that, hopefully, give us an edge on the competition this year."
Now the offseason is done, and it's time to put all that work into action.
Team owner Rick Hendrick is not hedging his bets. He says he expects all four of his teams to make NASCAR's Chase and that one of them hoists the championship trophy in the end.
Will Gordon show that he's better with age?
"If we are not going down to the wire at Homestead battling for that championship, it's going to be a disappointment," Gordon said.