Gordon: NASCAR got it 'half-right'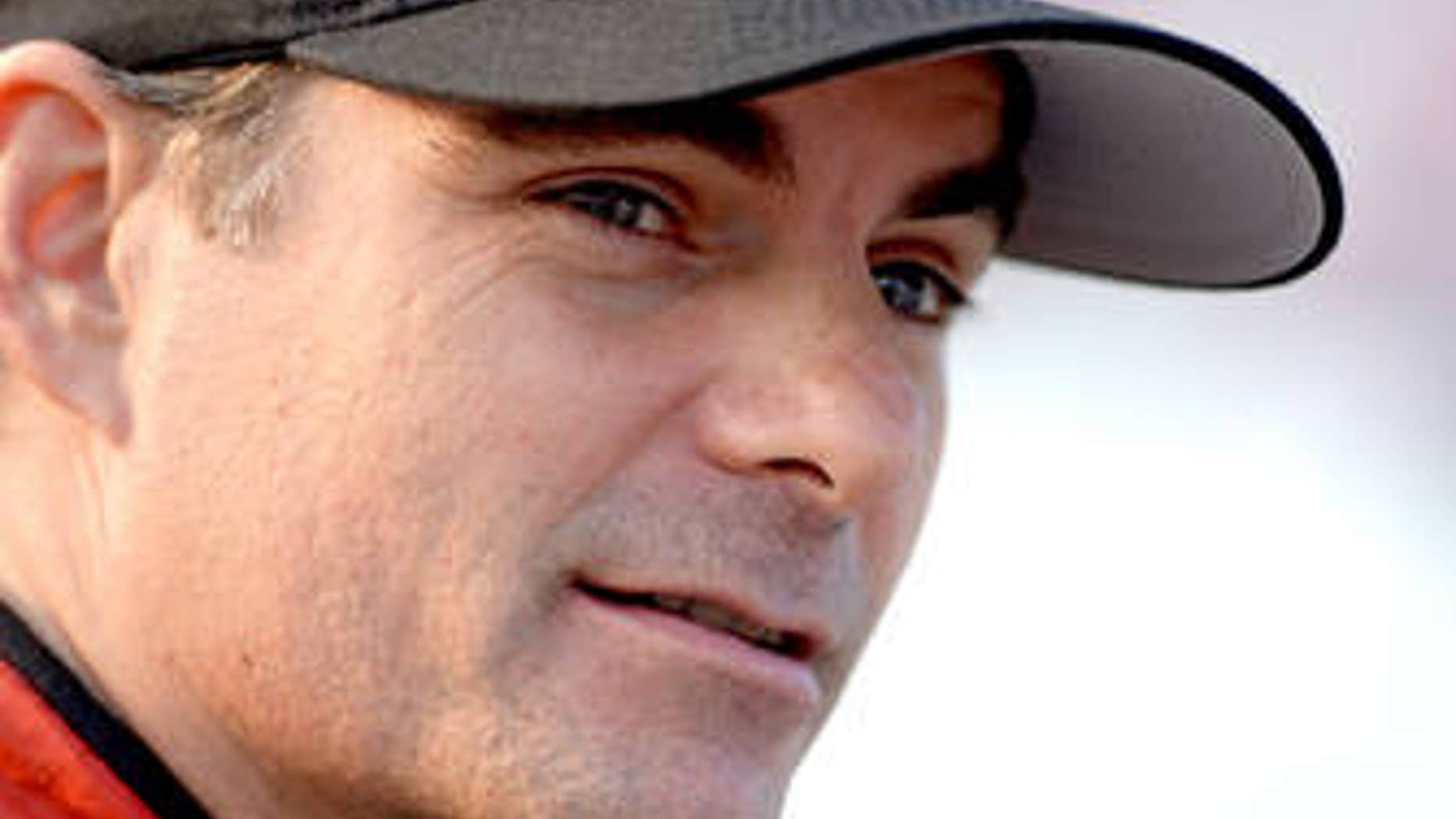 Jeff Gordon believes he and his No. 24 Hendrick Motorsports team should be in the Chase for the Sprint Cup this year, regardless of the outcome of NASCAR's investigation into communications Saturday night between Penske Motorsports and Front Row Motorsports at the end of the race at Richmond International Raceway.
"I haven't heard the audio; I heard about it," Gordon said Wednesday at a fundraiser for pediatric cancer organized by his foundation. "I really don't want to speculate on it. All I can say is I feel like our team deserves to be in this thing based on everything that went on Saturday night, based on our performance and I'd love to see us in it. And if we're not, it brings out a whole other level of motivation for us to go race for the next 10 weeks."
Gordon ended the Richmond race 11th in the NASCAR Sprint Cup points standings, a single point behind Penske driver Joey Logano. On the last lap of the race, Front Row driver David Gilliland, acting on orders from his team, apparently moved over to let Logano pass and pick up a position. NASCAR said late Wednesday afternoon that it is investigating that communication, which was first reported by FOX Sports, "but has yet to see anything in full context that requires any action."
On Monday night, NASCAR levied the largest dollar fine in sanctioning body history -- $300,000 -- against Michael Waltrip Racing and kicked MWR's Martin Truex Jr. out of the Chase because of actions taken by his teammates Brian Vickers and Clint Bowyer to alter the outcome of the race and the Chase field.
Gordon was actually in position to make the Chase when Bowyer spun with seven laps to go. But on the final restart, Logano passed both Vickers and Gilliland, which moved him up to 10th in points and dropped Gordon to 11th. Because Gordon has not won a race this year, the two wild-card spots went to Kasey Kahne, a two-time winner, and Truex. But NASCAR penalized Truex, eliminating him from the playoff round and making the second wild-card holder Brickyard 400 winner Ryan Newman.
That action was cold comfort to Gordon, who said NASCAR didn't go far enough in rectifying the situation.
"I thought they got it half-right," Gordon said of NASCAR. "I understand they're in a difficult situation, and we all as competitors and some of the media, understand that it looks pretty obvious what caused that caution. It's pretty obvious the 15 (Bowyer) came back down pit road similar to what the 55 (Vickers) did, but yet that penalty didn't really affect (Bowyer). It did affect MWR. It was a huge penalty for MWR, and it's going to have consequences that go beyond just that penalty."
Gordon said he was disappointed when he found out Saturday night that he didn't make the Chase but angry when learned why.
"I felt like I let the team down," Gordon said. "I didn't get -- I could have been way more aggressive and shoved some guys out of my way and probably wrecked some guys, and I took it as far as I felt like I could take it and still made up a position or two. . . . When I found out later how they manipulated it, that was anger to a whole other level. It's hard to describe.
"It's unlike any I've ever felt before, you know, really."
The one comfort Gordon said he took from the situation was his fan base, especially on Twitter.
"The passion of the fans has really inspired me," Gordon said. "I've always known I had a lot of great fans, a lot of supportive fans, but I had no idea at what level it went to until I could see the anger and disappointment I felt also through my fans."
In the end, though, frustration marked the entire episode for the four-time Sprint Cup champion.
"It's been a nutty kind of week. I don't even know, really, how to take it," he said.