Gordon, Kurt Busch set for battle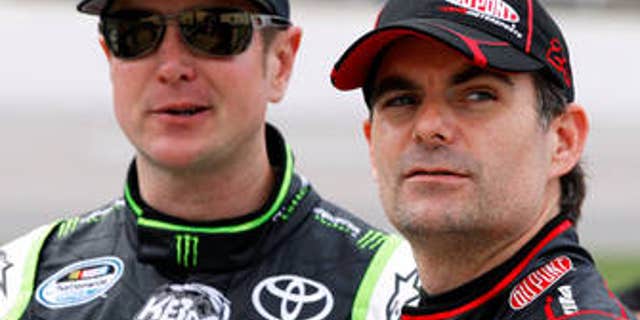 There's an odd sense of dejà vu at Richmond International Raceway this time around.
Jeff Gordon comes into Saturday night's Federated Auto Parts 400 in 11th place in the NASCAR Sprint Cup points standings, just six points behind 10th-place Kurt Busch. Last year at this race, Gordon rolled in seven points behind Kyle Busch for the final wild-card spot in the Chase for the Sprint Cup and was able to advance on the basis of a runner-up finish.
This time around, there are clear strengths and weaknesses for both the combatants. Gordon, the four-time champion, and Kurt Busch, a/k/a/ "The Outlaw," have both had their fair share of highs and lows this season.
Busch and the No. 78 Furniture Row Racing Chevrolet have been fast at almost every track they've raced at, faster than Gordon's No. 24 Hendrick Motorsports Chevy many times. In seven out of the last eight races, Busch has out-qualified Gordon.
"It's definitely been impressive," Gordon said of Busch's performance. "They've had a lot of speed this year. They've really come together. Any time you see that out of a smaller team -- it's a great story with Kurt, as well, with all that he's been through -- to be able to do it with that smaller team. I look for them to have a lot of speed again Saturday night."
The flip side is that Gordon's crew has been much better on pit road, and with pit stops being such a huge part of the equation in NASCAR races these days, that could play into the outcome of Saturday night's event. Busch knows that his over-the-wall crew has had a lot of scrutiny so far.
"You guys love the word 'well-documented.' You've used that enough on me, and those poor guys are getting worn out not performing at the level that are Chase material," Busch told reporters at RIR Thursday night. "I see this coming down to a pit stop or two, down to a restart at the end. I know they're going to put their best stop down when it counts because we know the whole season rides on this weekend."
That Busch has even gotten to this point is somewhat remarkable. He is in the midst of a one-and-done deal with Furniture Row, a team that coming into the season had never even come close to sniffing out a Chase spot. If Busch makes it into the Chase, it will be the first time a single-car team has ever qualified for NASCAR's playoff round.
"I feel like we're an underdog," said Busch, who last week announced he'll be moving to Stewart-Haas Racing next year. "It's fine to be that. I'm a Chicago Cubs fan for life, so I enjoy the underdog role."
As for Gordon, he said last year's battle with Kyle Busch has left him more confident this time around.
"We went through so much last year that I think it allows us to be more relaxed, be more prepared knowing that you got to race as hard as you can till the final lap, till you cross that start/finish line," Gordon said.
Statistically, Gordon has an advantage over Busch at the 0.75-mile RIR oval, albeit a modest one: Gordon has two victories, 16 top fives and an average finish of 14.293 in 41 starts here, while Busch has posted one victory, four top fives and an average of 17.920 in 25 races.
Gordon's teammate, Dale Earnhardt Jr., thinks he's up to the task at hand.
"I think Jeff has great chances to make the Chase," Earnhardt said. "He always seems to bring his 'A' game when it's needed, when it's really vital that he has a good run. He always seems to find a way to get what he needs. He runs well here. This is a good track that I think he has a lot of confidence at."