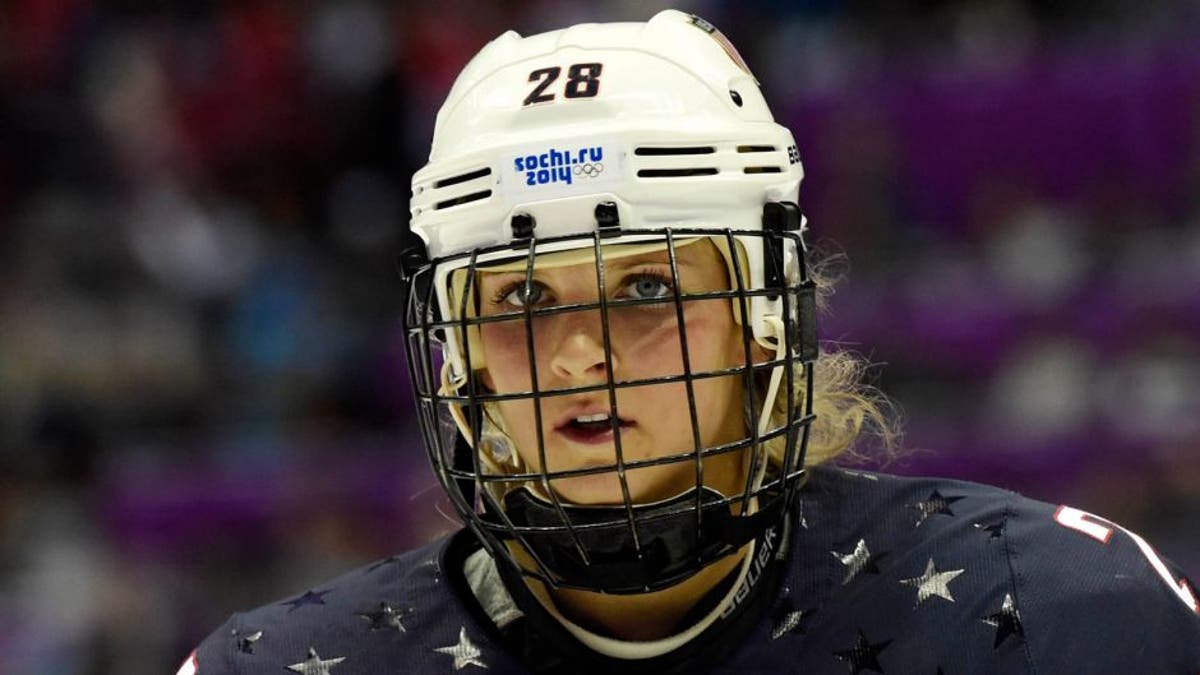 The most dominant player in North American women's hockey will return to the University of Minnesota campus in the fall -- but not to play the sport she owned.
Amanda Kessel won the Patty Kazmaier Award -- that's the women's Hobey Baker for those of you still mired in the 20th century -- in 2013, but she missed the entire 2014-15 season because of concussion-related symptoms. She suffered the injury in the fall of 2013 while practicing with Team USA ahead of the 2014 Sochi Olympics. Kessel was cleared to play and contributed three goals and three assists on the way to a silver medal.
But symptoms wouldn't go away and it was announced last fall she would miss the entire Gophers season. They won the NCAA title anyway.
In order to compete during the upcoming season, the NCAA would have to grant Kessel a waiver and the school has not applied for one. As coaches, players and administrators become more aware of the residual damage from concussions, it's becoming less and less common for players to return after suffering one. Kessel is expected to step back on campus but it will be to finish her degree. Head coach Brad Frost and rest of the team are resigned to the fact that they won't have Kessel back for her senior season.
NoDak hockey name game continues: The latest round in "What Shall We Name The North Dakota Team" gets even crazier. The list of possible new nicknames for The Team Formerly Known As the Fighting Sioux continues to dwindle. After hundreds of names were submitted by the public months ago, a select committee of alums has whittled the options down to a handful.
At a meeting this week, the committee tossed out the idea that the school's athletic teams would continue to play as North Dakota/NoDak. Good idea. Also eliminated: Green Hawks. Which really wasn't all that bad considering some of the names already rejected and some that are still in contention.
According to The Grand Forks Herald, several key members of the committee wanted to keep North Dakota/NoDak in contention, including chairman Karl Goehring and Twins president Dave St. Peter, a North Dakota alum. But it's gone. Other voices, however, reportedly pointed out that the school is The University of North Dakota, after all, and will thus always be called that, among other names. The logic is impeccable.
So, what's still in contention? The list of names is now down to: Fighting Hawks (not bad), Nodaks (brutal), Sun Dogs (laughable, a joke that will wear thin quickly), Roughriders (cool) and North Stars (do I need to tee off on that one again?). A final list will go before voters in a statewide what-to-name-the-baby event in just a few weeks. Gophers fans, of course, just want to play the North Dakota Whatevers in men's hockey again. Period. But it's hard not to stick a nose into what has been a months-long rhubarb over names and see how they smell.
North Dakota was forced to re-brand its athletic teams following an NCAA ruling that it could not continue to use Fighting Sioux, which was supposedly an affront to Native Americans. That same ruling knocked them off the Gophers' men's schedule due to a concurring UM policy. North Dakota teams played the Minnesota women wearing uniforms that merely said NORTH DAKOTA.
DOUG McLEOD is a longtime voice of Minnesota college and NHL hockey. He calls play-by-play of Gopher hockey on Fox Sports North.