Good night for Leino has sour ending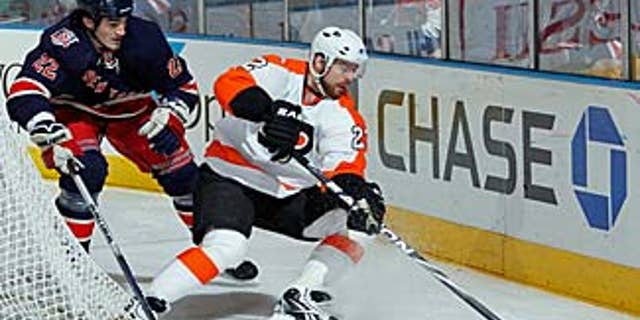 For a while, the game looked to be one Philadelphia Flyers forward Ville Leino would remember for a long time.
It did end that way, but the memories won't be all positive.
Last Saturday against the Atlanta Thrashers, the Flyers took a 3-0 lead after two periods and a 4-2 advantage with 6 1/2 minutes to go on Leino's first NHL hat trick.
However, his turnover led to Atlanta's overtime goal that gave the Thrashers 5-4 victory.
"Yeah it pretty much turned into an embarrassment in the end there," Leino said after the game. "It's not that good."
For a while, though, it was all good.
In the first, Leino stationed himself near the right post, kicked a cross-ice pass from Scott Hartnell onto his forehand and scored his first goal in eight games.
Late in the second, he dove into the crease to knock a loose puck behind Thrashers goalie Ondrej Pavelec into the net to give the Flyers a 3-0 lead.
And when the Thrashers cut Philadelphia's lead to 3-2, he rifled a shot from above the right circle past Atlanta goalie Chris Mason to push the score to 4-2.
However, that's where the good times ended for the native of Savonlinna, Finland.
Despite the sour ending, there was some good from Leino's scoring outburst. It gave him 17 goals on the season, and gave the Flyers a League-best nine players with at least 15 goals.
It also could put Leino on track for a return to his prolific playoff scoring of a year ago, when he had 21 points in 19 games as the Flyers advanced to the Stanley Cup Final.
Leino had hip surgery in the offseason and has battled through soreness in the area, missing just one game to give the hip some rest.
"Since I had that little bit of a hit and a miss there that one game it was, for a while, a little sore," he said. "But it's back to good now."
Contact Adam Kimelman at akimelman@nhl.com. Follow him on Twitter: @NHLAdamK