Goalkeeper heroics hold Arsenal, Liverpool to a scoreless draw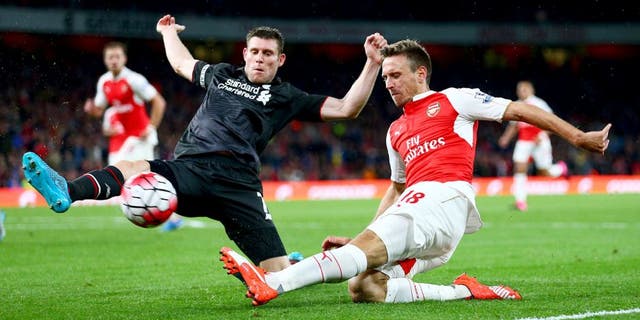 Some games defy all reason. This was a match of brilliant attacking play, moments of dreadful defending, of 90 minutes of sustained and breathless end-to-end endeavor, and yet it finished scoreless between Arsenal and Liverpool. It felt like an affront to logic.
Three times the frame of the goal was struck, three times goalkeepers made jaw-dropping saves and if Liverpool argue it had the better of the chances having bossed the first half, it might also remember how much of the second half the ball spent pinging about its box -- and that Simon Mgnolet ended up being booked for timewasting with five minutes remaining.
Brendan Rodgers, the Liverpool manager, had spoken of the need to "dominate space" -- a new entry in the lexicon of football's enduring struggle to reconcile the fact that it's almost impossible to dominate position and possession simultaneously. To that end, he selected a 4-3-3 with a trio of industrious or defensively minded midfielders in Emre Can, Lucas Leiva and James Milner -- with the captain Jordan Henderson out with a foot injury.
That did give Liverpool the advantage in midfield, particularly in the first half, although there was little sense of control. Rather this was another of those Premier League games high on intensity, full of mistakes and short on clinical thought; it was also thoroughly watchable. The game opened in a flurry of attacks of bewildering pace and the intensity never let up. Within the first 10 minutes, Philippe Coutinho had slammed a Christian Benteke cross against the underside of the bar and Aaron Ramsey had had a goal incorrectly ruled out for offside as he ran on to a Santo Cazorla pass. Gradually, though, Liverpool began to take charge.
When the sides met here in April, Liverpool were pressed to distraction, at times barely able to get out of their own half. This time it returned the favor, forcing Arsenal into a number of errors -- although it should be said that Arsenal didn't need much persuading to give the ball away. Without either of its first-choice central defenders -- Laurent Koscielny had a back problem and Per Mertesacker was ill -- anxiety in the makeshift back four of Hector Bellerin, Calum Chambers, Gabriel and Nacho Monreal soon became skittishness.
Chambers hadn't started a league game since March, and he struggled desperately, particularly before half-time. Benteke and Coutinho looked dangerous every time they got a run at the defense and but for two risky but well-executed tackles from Francis Coquelin, Arsenal could have been a couple behind by the half hour.
After the midfielder's heroics, it was Petr Cech who saved Arsenal, dispersing the doubts his performance against West Ham had raised with two astonishing saves in the space of five minutes. Six minutes before half-time, Hector Bellerin lost possession to Coutinho, who laid in Roberto Firmino. As the Brazilian crossed, Benteke seemed to have a tap in at the back post, but Cech somehow got across to turn the ball round the post. A couple of minutes later, Coutinho showed remarkably quick feet to flummox Bellerin, only for Cech to get the slightest touch on his shot and divert it against the post.
"When you start with a new club and everything goes wrong, you need to bounce back and this is what I tried to do," said Cech after the match. "Today was one those games where I was in the right place at the right times and helped the team overcome a difficult moment in the first half."
Even Rodgers had positive things to say about Arsenal's keeper. "Cech had a period of 10 to 15 minutes when he made some magnificent saves. Congratulations to the keeper," said Rodgers. "Simon Mignolet had to make some good saves as well of course."
Arsenal calmed down in the second half and began to control possession as a result. A neat move that began with Mesut Ozil and passed through Cazorla and Olivier Giroud ended in Sanchez smacking the outside of the post. Simon Mignolet then clawed away a slightly miss-hit effort from the Giroud, who slipped as he shot, a save that would on almost any other night have been the major talking about; after Cech's heroics, though, it was only the third-best save of the game. The Belgian then made another fine block, reacting well to change direction and get down to his left after Aaron Ramsey's shot was deflected.
Given how the first half went, Arsenal was perhaps relieved to get away with a point, but four points form three games means they are already five behind the leaders Manchester City. It would be absurd at this early stage to suggest hopes of a serious title challenge haven't faded yet, but already there's pressure beginning to build: many more slip-ups and it'll be one of those familiar Arsenal charges to try to rescue a lost cause.
Liverpool, meanwhile, can take great heart from a third consecutive clean sheet -- even if it was one that made little sense. Their defense has been their great weakness over the past three seasons. If that has been sorted out, then they certainly have enough firepower that what looked like a faint chance of Champions League qualification may not be as unrealistic as it seemed.