GM Dave Gettleman reveals what makes Panthers so special in exclusive Q&A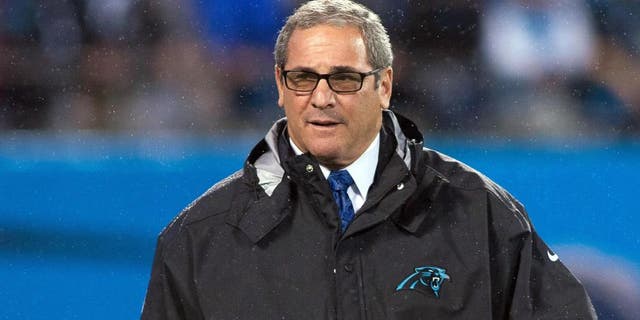 The Carolina Panthers have made the playoffs for three consecutive seasons and are now on the cusp of a Super Bowl appearance.
It's no coincidence such success came about after Dave Gettleman arrived as general manager.
A long-time NFL scout and personnel director for the New York Giants, Gettleman was a surprise hire when tapped to replace the fired Marty Hurney following Carolina's 2012 season. He was the oldest candidate interviewed at age 62. Gettleman didn't even have an agent trying to pitch him for GM jobs or championing him through media leaks, which made him a relative unknown outside league circles.
People know Gettleman's name now. Under his watch, the Panthers enter Sunday's NFC championship game against visiting Arizona with an NFL-high 10 Pro Bowl selections from a squad that finished with a league-best 15-1 record during the regular season.
Gettleman is quick to deflect individual praise. He credits Hurney for drafting cornerstone players like quarterback Cam Newton, cornerback Josh Norman and linebackers Luke Kuechly and Thomas Davis. Gettleman also commends his personnel staff, which he kept intact from Hurney's tenure rather than hiring former co-workers and friends as replacements like other incoming general managers around the NFL.
In an exclusive interview with FOXSports.com, Gettleman addressed the construction of this season's roster, the impact that now-departed defensive end Greg Hardy's domestic violence arrest had on the 2014 Panthers and how he formed a strong working relationship with head coach Ron Rivera.
MARVEZ: What do you think has made the 2015 Panthers so special?
GETTLEMAN: It is the chemistry the players have. Not every guy is going to like every other guy. That's just not the way that life works. But the thing that makes it special is these guys respect each other. There's a great camaraderie down there, and it's not offense on one side (of the locker room) and defense on the other. You see different guys sitting with different guys at meals. It's not just these same three or four guys always sitting together. It's them understanding more than anything else that it takes all 63 guys (on the roster, including practice squad) to win ... Ron and his staff do a great job making sure everybody feels involved. They've bought in. I've been blessed. I've been to six Super Bowls. I've never been on a team that's had bad chemistry and gone to a Super Bowl.
MARVEZ: When you were building this roster with Ron and your staff, how much does that figure into the equation?
GETTLEMAN: A lot. The thing that makes it so difficult is you have so many moving parts. You've got 53 players and you don't have the same 53 every year. You've got the 10 practice squad guys, and they're going to move around. We've been incredibly blessed because our staff has been stable, which is huge that we haven't had to deal with that dynamic. You can't be as good as you want to be when there's people digging on players down there that make it uncomfortable for other players in the locker room. It doesn't work. So we really look hard at character. We really do. It's a big part of our draft, a big part of bringing in free agents. The other thing we do is tell them, "This is who we are. If you don't want to be a part of this, it's OK. It doesn't make you a bad guy. It makes you a bad fit." The cards are on the table, and everybody knows what's expected. Everyone is held responsible.
MARVEZ: After falling short in the playoffs last year, what were the areas you targeted in the offseason?

GETTLEMAN: One of the things was more speed on special teams. Our cover units hurt us last year. There were a whole bunch of things going on. We had a ton of injuries so Colin Jones, who's our ace on special teams, becomes our nickel (cornerback). Now he's playing 40 snaps a game, so you've got to pull him off a couple of teams (units). We lost (fullback) Mike Tolbert, who's a solid special teams guy, for eight games. There was a domino effect. So we went out and got (cornerback) Teddy Williams, who's a really core teams guy, we drafted (linebacker) David Mayo and incorporated Joe Webb more. That's one of the checked boxes.
Another thing was the left tackle spot. It was an issue. Anybody who watched film could see that. We really investigated Michael (Oher). Believe me -- he has not disappointed. That was big.
The biggest thing (in the offseason) is you evaluate your team. In my opinion, the next biggest thing is how the free-agent period sets up your draft. The worst thing you can do is go into the draft desperately needing some type of position because I'm a firm believer in best player available. If you look at the three years I've been here, that's what we've done. I haven't strayed from it. You can never have too many good players at one position. The outside perception is, "Oh, they need this, this and this and they have to draft." The thing people don't understand is sometimes you have to improve at a position incrementally. You've got a player who's an average guy. You want to replace him, but you're not going to be able to replace every one of those guys with a Pro Bowl player. The (salary) cap won't allow you do to it.
The other thing you have to do is prevent position disasters. If Joe Blow goes down, you're screwed. You might as well go home because the guys behind him just can't get it done. … I kept saying to myself, "What are we going to do at receiver if Kelvin (Benjamin) gets hurt and linebacker if T.D. (Thomas Davis) gets hurt?" So you saw in the first and second round we drafted Shaq Thompson and traded up for Devin Funchess. Devin has not disappointed. Devin's development was hurt because he had hamstring issues and missed most of training camp.
I also wanted to get a young developmental tackle. We got him in Daryl (Williams). We wanted to get a young running back in here, and we got Cameron Artis-Payne. And on (special) teams, we got David Mayo and he's done a great job for us. We didn't reach for any of those guys.
I felt like we answered a lot of the questions we had. I answered the question before the season began that I thought this was the best roster we've had since I've been here. Obviously, if Luke or Cam gets hurt it's an issue. But I'm talking about in terms of quality depth. We get (safety) Kurt Coleman in free agency last year and we're thinking he's going to be a swing guy (as a backup). He wins the job in training camp, so that means Tre (Boston) is not starting. But Tre has gotten his snaps and done a hell of a job on (special) teams.
You know the narrative, "Cam has no weapons (to work with)." You have to trust your evaluation process. Nobody knows this team better than us. Philly (Brown) had a real tough preseason. He just wasn't trusting his hands. He fought through it. Jerricho (Cotchery) is a pro's pro. (The media) wants flash and substance. Kelvin goes down (in the preseason), and they want me to sign every 95-year-old wide receiver who has ever put a pad on. The names they were throwing out … No. We believe in our guys, and we're going to let them develop and play. With the cap, you have to let young guys develop. And oh, by the way, they're human beings. They're going to make mistakes. You've just got to keep coaching them. Again, that's where the character comes in. How important is it to them. They have the mental ability to do it. Do they have the mental toughness to play? You look at all those things and if you feel strongly about your guys you go with them.
MARVEZ: With what went on with Greg Hardy last year, how much did that affect chemistry, and are there lessons you can learn from that situation?
GETTLEMAN: It was an incredibly difficult time. We had reporters saying we didn't handle it well and we should have to go to (domestic violence) training and whatever. I made the statement (to the media) after the season was over that there is no one in this room who is qualified to deal with that issue. When I spoke to them in September (2014), I said, "There's no rulebook for this. There's no guide map or check box. We're dealing with it in as fair and equitable a manner as we can and doing it to the best of our ability." Moment to moment (the situation) was changing. It was tough on us; it was tough on the players. They didn't understand what was going on. It wasn't until his court case got pushed back from November to after the year that everybody said, "Ok, he's not coming back (from the commissioner exempt list)." Guys started to say, 'If everybody does their job, we'll be OK."
When we go to Minnesota and have two punts blocked and come back 3-8-1, I was talking to (long-time scout) Clyde Powers, and we said to each other, "We're still in it." And then we go to New Orleans the next week and the rest is history. That's a testament to Ron, his staff and our guys. They didn't quit. They kept working and working. That really set this year up.
MARVEZ: Ron said that you can be bull-headed at times but there is also compromise on personnel decisions. How did you guys form that type of bond?
GETTLEMAN: I got hired on a Wednesday, and the next morning Ron picked me up for breakfast. We go to a pancake place, sit down, get coffee, and I looked at Ron and said, "Are you ready for our blind date?"
We talked, and I said, "Ron, this is what I expect and the way I want to approach this. It's going to be collaborative. We're going to find players that fit your schemes. I'm going to listen to the coaches and everybody (on the scouting staff). It doesn't mean I'm always going to do what you want, but I will listen and take everything in. I expect that in return. It's a two-way street now. You've got to understand that if I say, 'No,' I'll explain why but understand it's going to be a firm no.''
Ron and I had no knowledge of each other. I knew him as a player on one of the greatest defenses of all time (in Chicago). I knew he was a hell of a coach. But we did not know each other personally. We had two people that knew both of us pretty well. Of course, he's on the phone to them. I don't blame them. I called a few guys as well.
When we got toward the end of our breakfast together, I said, "Ron, I will make you one promise and one promise only. I will do everything in my power to make this work. I'm not here to do anything other than win." That's why when that (media) report came out when we were 1-2 that we were looking for a head coach I was so f****** furious. I got up in the press box when one of the (reporters) came over to me about it and said, "This is unbelievable bulls***. It's unequivocally false." I went to Ron after I heard it and said, "Talking man-to-man here, that is bulls***. Let's keep working and get this fixed." We then went on an eight-game winning streak.
We have the same values. We have this crazy idea you should be honorable and virtuous. And we're both from immigrant families. Ron is first generation; I'm second generation. It just works. We have core values listed on our desk, and we believe in them. Hard work, harmony, teamwork, listening and respect. You look at it every day. We're not afraid to say the difficult things to each other. We also know it's professional. It's not personal. That's where it gets all screwed up.
We have to win. At the end of the day, it's all about W's and L's. Nothing else. It's just so much easier to get that done when everyone is on the same page. It works for us."